Noninvasive Hemoglobin Tester has FDA 510(k) Clearance.
Press Release Summary: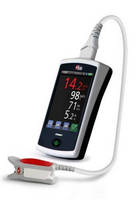 As point-of-care testing solution that can help healthcare providers expedite diagnosis and treatment of anemia in children and adolescents, Pronto-7® enables noninvasive spot-checking of total hemoglobin (SpHb®), SpO2, pulse rate, and perfusion index. Embedded 802.11 b/g and Bluetooth capabilities enable wireless printing or emailing of test results. With dimensions of 5.1 x 2.8 x 1 in., 10.5 oz instrument also offers Max Sensitivity Mode and can measure hemoglobin in less than 1 min.
---
Original Press Release:
Masimo Announces FDA Clearance and Full Market Release of the New Pronto-7(TM) for Noninvasive Total Hemoglobin Spot-Check Measurement, Along with SpO2, Pulse Rate, and Perfusion Index
IRVINE, Calif. -- Masimo (NASDAQ: MASI) today announced FDA 510(k) clearance and full market commercial launch of the Masimo Pronto-7®--a palm-sized handheld device designed for quick and easy noninvasive spot-checking of total hemoglobin (SpHb®), SpO2, pulse rate, and perfusion index. Hailed as a "potential game-changing technology," Dr. Andrew J. Schuman--adjunct assistant professor of pediatrics at Dartmouth Medical School, contributing editor for Contemporary Pediatrics, and a practicing pediatrician in New Hampshire, who reviewed the device prior to FDA clearance--says that the new Pronto-7 is so innovative it has the "potential for significantly improving pediatric practice." "The Pronto-7 is a potentially game-changing device because it can help healthcare providers expedite the diagnosis and treatment of anemia in children and adolescents," continued Dr. Schuman. Not only does it represent an exciting medical advancement in point-of-care testing, but it also provides pediatricians with a high-tech alternative to painful venipuncture or finger stick blood sampling that, until now, has been the only way to measure hemoglobin levels in our young patients. Parents and pediatricians will also appreciate our new ability to screen without the scream! Most would agree that the best preventative healthcare is provided both quietly as well as painlessly." With FDA 510(k) clearance and full commercial availability of the new Pronto-7 device, which includes expanded sensor size options to accommodate a wider range of finger sizes and the addition of a Max Sensitivity Mode, clinicians throughout the United States will be able to quickly and conveniently measure total hemoglobin, SpO2, pulse rate, and perfusion index-- without removing a drop of blood. Masimo Pronto-7 has already received several notable industry accolades, including the 2011 GOLD Medical Design Excellence Award,2011 TechAmerica High-Tech Innovation Award, and the 2011 iF Product Design Award. And in2010, the Pronto-7 was named to the World Health Organization's (WHO) List of Innovative Medical Technologies that Address Global Health Concerns and Needs. Hemoglobin is one of the most commonly ordered tests in both hospital and non-hospital settings because it is critical to assessing blood loss. However, current testing requires a painful needle stick for the patient, time-consuming blood draws for the clinician, and typically provides delayed results. The Pronto-7 offers a breakthrough solution for measuring hemoglobin in less than one minute--without the needles, risk of blood contamination, hazardous medical waste, laboratory analysis, and patient discomfort associated with traditional blood tests. With dimensions of just 13 cm x 7.2 cm x 2.5 cm (5.1" x 2.8" x 1") and weight of 296 grams (10.5 ounces), the palm-sized Pronto-7 puts the power of noninvasive hemoglobin spot-check testing, along with SpO2, pulse rate, and perfusion index, into any clinician's hands in various clinical settings, including physician offices, hospitals, and clinics. Because of the device's embedded 802.11 b/g and Bluetooth communication capability, wireless printing or emailing of test results is enabled and future upgrades will allow for wireless transmission to electronic health record (EHR) systems. Thomas A. Murray, III, MD, an obstetrician/gynecologist in Salem, Massachusetts, says: "As one of the first users of the prototype Pronto-7, I was impressed with its ease of use right from the start. In a general ob/gyn office, anemia is a common disorder and the Pronto-7 allows me to accurately measure my patients' hemoglobin levels noninvasively, conveniently, and quickly--right here on-the-spot in my office. My patients used to cringe at the idea of a finger stick and love that Pronto-7 is noninvasive. It is also much safer for my staff as there is no possibility of a needle stick injury or blood exposure. I have found the Pronto-7 to be very useful in my practice." Masimo is the first company to commercially introduce continuous and spot-check noninvasive total hemoglobin devices. Prior to the introduction of the Pronto-7, Masimo received U.S. FDA 510(k) and CE mark clearance and first introduced the ability to noninvasively and continuously measure total hemoglobin (SpHb) in 2008 using its Radical-7 bedside Pulse CO-Oximeter. In 2009, Masimo launched Pronto®--its first handheld noninvasive spot-check device for point-of-care hemoglobin, SpO2, and pulse rate testing--worldwide. And in 2010, Medicare reimbursement was added for transcutaneous hemoglobin measurement in the United States. Masimo Founder and CEO, Joe Kiani, stated: "Full market release of Pronto-7 will enable clinicians to better care for and assess their patients. We agree with the physicians and industry experts who call the Pronto-7 a game-changing technology. And we are proud to deliver this medical first--completely noninvasive total hemoglobin, SpO2, pulse rate, and perfusion index measurements available in the palm of your hand--which offers healthcare providers around the world the opportunity to transform the way and amount of time it takes to deliver the right care, at the right time to patients." About Masimo Masimo (NASDAQ: MASI) is the global leader in innovative noninvasive monitoring technologies that significantly improve patient care--helping solve "unsolvable" problems. In 1995, the company debuted Measure-Through Motion and Low Perfusion pulse oximetry, known as Masimo SET(®), which virtually eliminated false alarms and increased pulse oximetry's ability to detect life-threatening events. More than 100 independent and objective studies demonstrate Masimo SET provides the most reliable SpO2 and pulse rate measurements even under the most challenging clinical conditions, including patient motion and low peripheral perfusion. In 2005, Masimo introduced rainbow SET(®) Pulse CO-Oximetry(TM) technology, allowing noninvasive and continuous monitoring of blood constituents that previously required invasive procedures, including total hemoglobin (SpHb®), oxygen content (SpOC(TM)), carboxyhemoglobin (SpCO(®)), methemoglobin (SpMet(®)), and Pleth Variability Index (PVI(®)), in addition to SpO2, pulse rate, and perfusion index (PI). In 2008, Masimo introduced Patient SafetyNet(TM), a remote monitoring and wireless clinician notification system designed to help hospitals avoid preventable deaths and injuries associated with failure to rescue events. In 2009, Masimo introduced rainbow Acoustic Monitoring(TM), the first-ever noninvasive and continuous monitoring of acoustic respiration rate (RRa(TM)). Masimo's rainbow SET technology platform offers a breakthrough in patient safety by helping clinicians detect life-threatening conditions and helping guide treatment options. In 2010, Masimo acquired SEDLine®, a pioneer in the development of innovative brain function monitoring technology and devices. Masimo SET and Masimo rainbow SET technologies can be also found in over 100 multiparameter patient monitors from over 50 medical device manufacturers around the world. Founded in 1989, Masimo has the mission of "Improving Patient Outcome and Reducing Cost of Care ... by Taking Noninvasive Monitoring to New Sites and Applications®." Additional information about Masimo and its products may be found at www.masimo.com. Masimo, SET, Signal Extraction Technology, Improving Patient Outcome and Reducing Cost of Care... by Taking Noninvasive Monitoring to New Sites and Applications, rainbow, SpHb, SpOC, SpCO, SpMet, PVI, rainbow Acoustic Monitoring, RRa, Radical-7, Rad-87, Rad-57,Rad-8, Rad-5,Pulse CO-Oximetry, Pulse CO-Oximeter, Adaptive Threshold Alarm, and SEDLine are trademarks or registered trademarks of Masimo Corporation. The use of the trademarks Patient SafetyNet and PSN are under license from University HealthSystem Consortium.
More from Chemicals & Gases