Non-Volatile 1 MB SRAM captures data upon power loss.
Press Release Summary: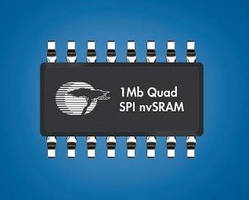 Working at clock speed of up to 108 MHz, CY14V101QS features quad serial peripheral interface (SPI) and ensures high-throughput data capture in case of power loss without batteries. This 1 MB nonvolatile static random access memory (nvSRAM), supplied in 16-pin SOIC package and 24-ball BGA package, offers 24 Mbps random read/write access time with unlimited write endurance and 20-year data retention. Optional integrated RTC offers ±50 ppm uncalibrated accuracy.
---
Original Press Release:

Cypress Introduces 1Mb nvSRAM with a Quad Serial Peripheral Interface for High-Throughput, Highly Reliable Data Capture on Power Loss



Nonvolatile RAM Solution Simplifies Designs by Eliminating Batteries and Reducing Pin Count For RAID Storage, Industrial Automation and Networking Applications



SAN JOSE, Calif. -- Cypress Semiconductor Corp. (NASDAQ: CY) today introduced a 1Mb nonvolatile static random access memory (nvSRAM) with a Quad serial peripheral interface (SPI). The Quad SPI interface enables the new nvSRAM to exceed the data throughput of larger parallel interface devices with a smaller footprint. The nvSRAM ensures high-throughput data capture in event of a power loss without batteries for RAID storage, industrial automation, computing and networking applications.



The CY14V101QS 1Mb nvSRAM with Quad SPI interface works at a clock speed of up to 108 MHz and offers performance exceeding that of a parallel interface (x8 IO width, 45-ns access time) device. The nvSRAM provides 24MBps random read/write access time with unlimited write endurance, and 20-year data retention. With its reduced I/O width, it offers reduced pin count and board footprint in a 16-pin SOIC package and 24-ball BGA package. The device also includes an optional integrated real-time clock (RTC) with +/- 50ppm uncalibrated accuracy. The nvSRAM offers lower power consumption by a factor of 5.8 (active) and a factor of 10 (sleep) compared to competitive devices. A video on the device is available at www.cypress.com/video-library/Memory/quad-spi-nvsram/307986.



Cypress nvSRAMs are RoHS-compliant and directly replace SRAM, battery-backed SRAM, EPROM and EEPROM devices, offering reliable nonvolatile data storage without batteries. Data transfers from the SRAM to the device's nonvolatile elements take place automatically at power down. On power up, data is restored to the SRAM from the nonvolatile memory. Both operations are also available under software control.



"Mission-critical systems require high-performance memories that can capture data instantly and reliably on power loss," said Sonal Chandrasekhar, Director of the Nonvolatile Products Business Unit at Cypress. "Cypress's new 1Mb Quad SPI nvSRAM delivers fail-safe data security with the throughput performance of parallel devices in a small form factor with low power consumption."



Cypress's nvSRAMs are manufactured on its SONOS (Silicon Oxide Nitride Oxide Silicon) embedded nonvolatile memory technology, enabling greater densities and improved access times and performance. nvSRAMs are ideal solutions for applications requiring high performance and absolute nonvolatile data security such as RAID systems, PLCs, industrial data loggers, computing and networking systems, motor drives, routers and switches, avionics, defense systems, and gaming systems.



A leader in SONOS process technology, Cypress is using the technology in its flagship PSoC(®) mixed-signal arrays, programmable clocks and other products. SONOS is compatible with standard CMOS technologies and offers numerous advantages including high endurance, low power, and radiation hardness. The SONOS technology is qualified to run in Cypress's internal fab and in multiple foundry partner locations. The technology provides a superior solution in terms of scalability and manufacturability compared to other magnetic based nonvolatile memory technologies. Cypress has shipped more than two billion units that employ the SONOS process technology utilized in the nvSRAMs.



Availability

The CY14V101QS 1Mb nvSRAM is sampling today with production expected in the third quarter of 2015.



About Cypress nvSRAMs

Cypress's nvSRAMs use charge stored on an external capacitor instead of a battery, making the devices compatible with standard PCB assembly processes. Cypress's nvSRAMs are ROHS-compliant and directly replace SRAM and battery-backed SRAM (BBSRAM) products, offering fast non-volatile data storage. Data transfers from the SRAM to the device's nonvolatile elements take place automatically at power down. On power up, data is restored to the SRAM from the nonvolatile memory. In networking, industrial, computing and RAID applications, nvSRAMs offer high-speed data transfer while ensuring data integrity in case of power outages, without the need for a battery. More information about Cypress's portfolio of nvSRAM products is available at www.cypress.com/nonvolatile.



Follow Cypress Online

--  Read our Core & Code technical magazine and blog.

--  Join the Cypress Developer Community.

--  Follow @CypressSemi on Twitter.

--  Visit us on Facebook and LinkedIn.

--  Watch Cypress videos on our Video Library or YouTube.



About Cypress

Cypress (NASDAQ: CY) delivers high-performance, high-quality solutions at the heart of today's most advanced embedded systems, from automotive, industrial and networking platforms to highly interactive consumer and mobile devices. With a broad, differentiated product portfolio that includes NOR flash memories, F-RAM(TM) and SRAM, Traveo(TM) microcontrollers, the industry's only PSoC programmable system-on-chip solutions, analog and PMIC Power Management ICs, CapSense(®) capacitive touch-sensing controllers, and Wireless BLE Bluetooth(®) Low-Energy and USB connectivity solutions, Cypress is committed to providing its customers worldwide with consistent innovation, best-in-class support and exceptional system value. To learn more, go to www.cypress.com.



Cypress, the Cypress logo, PSoC and CapSense are registered trademarks and F-RAM and Traveo are trademarks of Cypress Semiconductor Corp. All other trademarks are property of their owners.



CONTACT:

Samer Bahou

Cypress PR

(408) 232-4552

samer.bahou@cypress.com



More from Communication Systems & Equipment