Non-Tacky Pre-Preg Materials optimize molding throughput.
Press Release Summary: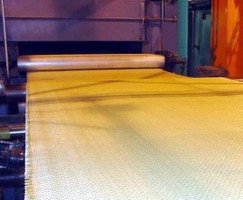 Non-adhesive pre-preg thermoset composites (b-stage products) are dry to touch and can be customized to fit range of end-user requirements. Products do not require release film, enhancing storage, handling, and processing rates. Tight resin/substrate ratios ensure consisent reactivity. Available substrates include glass, cotton, paper, carbon fiber, and customer-specific substrates, while choice of resin systems includes phenolic, epoxy, melamine, and specialty materials.
---
Original Press Release:

Norplex-Micarta Non-Adhesive Pre-Preg Materials Increase Molding Thru-put & Profitability



POSTVILLE, IA - Norplex-Micarta announces a low-cost line of non-adhesive pre-preg thermoset composites (b-stage products). The non-tacky pre-preg materials are dry to the touch and therefore, do not require the release film found on conventionally tacky pre-pregs. Without the need to remove conventional release films, this pre-preg can be stored, handled, and processed more easily and efficiently, thereby reducing set-up labor costs by as much as 75%. These economic materials continue to provide the same flow and bonding performance of more expensive, traditional materials.

High-performance pre-preg composites from Norplex-Micarta can be customized to fit a diverse range of customer requirements. Available substrates include glass, cotton, paper, carbon fiber, and customer-specific substrates; resin systems include phenolic, epoxy, melamine, and specialty resin systems.

Norplex-Micarta pre-preg products are manufactured in a state-of-the-art factory environment. Computer controlled processes maintain tight resin/substrate ratios for consistent reactivity. Norplex-Micarta utilizes the most stringent vendor qualification process in the thermoset laminate industry and strictly monitors raw materials to guarantee the highest quality pre-preg products.

About Norplex-Micarta
Norplex-Micarta is the leading manufacturer of high performance thermoset composites. Norplex-Micarta's vast product line serves power generation, military/aerospace, oil & gas, medical devices, electricaldevices, electronics assembly, construction, heavy industry, and transportation markets throughout Europe, Asia/Pacific, and The Americas. Norplex-Micarta is located at 665 Lybrand Street, Postville, IA 52162; Tel: 563-864-7321; Fax: 563-864-4231; E-mail: info@norplex-micarta.com; Web: www.norplex-micarta.com.

For more technical information, contact:
Alan Johnson, Director of Business Development
NORPLEX-MICARTA
665 Lybrand Street
Postville, IA 52162 USA
TEL: +1 563-864-4275; FAX: +1 563-864-4231
EMAIL: ajohnson@norplex-micarta.com

More from Machinery & Machining Tools