Non-Magnetic Torque Wrench targets MRI applications.
Press Release Summary: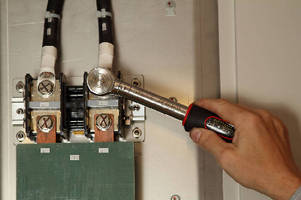 Suitable for medical equipment maintenance, Non-Magnetic Torque Wrench provides torque range of 10-180 lbf-in. with accuracy of ±3% of reading, which exceeds international standards. Since using standard steel tools close to high-powered magnets can be difficult and hazardous, non-magnetic tool is important for both health and safety and asset protection. Other maintenance applications include clean rooms, permanent magnetic generators, mine sweepers, and nuclear products.
---
Original Press Release:

Norbar's Non-Magnetic Solution



Norbar Torque Tools, based in Banbury, has launched its first ever Non-magnetic Torque Wrench, which is proving invaluable for medical equipment maintenance, notably in the MRI field. It also has further applications across a range of industries wherever tools have to be used in the presence of a strong magnetic field.

For MRI scanner maintenance, a torque wrench is required to check the bolts used with the gradient power supply cables. This non-magnetic tool is an important advance for both health & safety and asset protection, because using standard steel tools close to high powered magnets can be difficult and hazardous. Potential incidents can occur from:

o Tools locking onto magnets

o Tools flying out of control under magnetic attraction

In both cases there is serious risk of injury to the operator and damage to sensitive and expensive equipment. The new Norbar wrench is acceptable for the majority of MRI scanners in use today.

Philip Brodey of Norbar explained that manufacturing the Non-magnetic Torque Wrench required carefully selected and tested materials to replace the ferrous components present in standard torque wrenches. "The new wrench is designed and manufactured to the same high standards as our other torque tools, but has an extremely low magnetic footprint," he said.

Other maintenance applications where the Norbar Non-Magnetic Torque Wrench will be a real benefit include:

o Clean Rooms

o Radar Transmission Centres

o Precision Magnetic Equipment

o Permanent Magnetic Generators (PMGs)

o Nuclear products

o Mine Sweepers

Features of the wrench include:

o Range 1-20 Nom, 10-180 lbf.in.

o Accuracy of reading +/- 3% of reading (exceeding all international standards for torque wrenches

"Norbar's Non-magnetic Torque Wrench is one of very few specialist tools available for markets requiring non-magnetic interventions," said Philip Brodey.

For further information about Norbar products and services, contact:
Norbar Torque Tools Ltd, Beaumont Road, Banbury, Oxfordshire OX16 1XJ
T01295 270333 sales@norbar.com

More from Electrical Equipment & Systems