Non-Invasive Device treats arthritic knees.
Press Release Summary: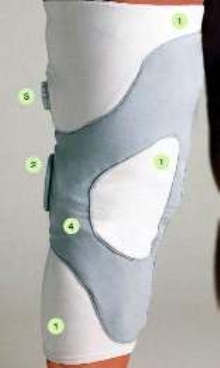 Worn against skin, visually discreet device gives patients and physicians ability to adjust amount of pain-relieving force applied to osteoarthritic knee. It includes lightweight materials, micro cables that match device to curve of leg, and dosimeter to provide patients with correct decompressing force to arthritic compartment of knee. Unit can not be seen under most clothes and is covered in silky material to avoid bunching under pant legs.
---
Original Press Release:

Bellacure, Inc. Releases Non-Invasive Treatment Device for Arthritic Knee Patients


Bellacure, Inc. Releases Non-Invasive Treatment Device for Arthritic Knee Patients

SEATTLE, Aug. 1 -- The millions of patients suffering from arthritic knee pain now have a new treatment option, thanks to Bellacure, Inc. (http://www.bellacure.com/). The company, which specializes in the treatment of arthritis, has just released a new patent-pending device shown in preliminary studies to offer significant pain relief without the use of surgery or drugs.

The non-invasive, visually discreet Bellacure treatment device is worn against the skin and gives patients and physicians the ability to precisely adjust the amount of pain-relieving force applied to the osteoarthritic knee. Bellacure's technology includes ultra soft, lightweight materials; unique micro cables that match the device to the curve of the patient's leg; and a dosimeter to provide patients with exactly the right decompressing force to the arthritic compartment of the knee, delivering reliable pain relief every time.

"Most of the technology in the Bellacure treatment device is new to the industry," explained Bellacure president Shane Sterling. "Patients can now experience drug-free osteoarthritis pain relief at home with a level of precision and intensity never before available in orthopedics."

Another advantage of the device: its low profile. The device bears little resemblance to bulky, cumbersome knee braces. In fact, the Bellacure treatment device cannot be seen under most clothes and is covered in a silky material to avoid bunching under pant legs. As a result, patients will experience knee pain relief without feeling self-conscious.

"Recent advancements in biomechanics, microelectronics, micromechanics and the technical garment industry have enabled us to produce an arthritis treatment device that is efficient and effective," said Sterling. "I think the greatest achievement we've made with the Bellacure treatment device is how all this technology is transparent and easy for the patient to use. Our goal is to provide the arthritic pain relief patients need to seamlessly maintain or return to their previous lifestyles."

About Bellacure, Inc.
Bellacure, Inc. was founded by two longtime industry leaders in the field of OA treatment. Shane Sterling, a pioneer in the field of biomechanical research and engineering, presides as president of the company, while well-known orthopedic distribution manager and marketing director Mike Cannon will take the helm as executive vice president in charge of sales and marketing.

For more information on Bellacure or the Bellacure osteoarthritis knee treatment unit, visit www.bellacure.com/ or call 800-795-2070.

CONTACT: Mike Cannon, Bellacure, Inc., +1-206-762-3609, mcannon@bellacure.com

More from Computer Hardware & Peripherals