Non-Fouling Aeration System provides high impact mixing.
Press Release Summary: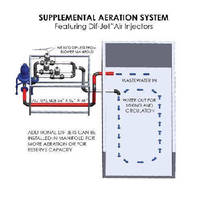 Employing non-fouling Dif-Jet™ gas injectors to mix large quantities of dissolved oxygen into wastewater, Aeration System eliminates odor and reduces BOD in animal waste and sanitary waste lagoons. System uses 400–1200 gpm shore based dry pit type, glycol cooled, electric submersible pumps designed to handle solids up to 3 in. diameter. Oxygenated wastewater is returned to wastewater lagoon at 550 gpm via discharge pipe, establishing vigorous circulation in lagoon.
---
Original Press Release:

Fortrans Inc. Unveils Non-Fouling Aeration System with High Impact Mixing for Animal and Sanitary Waste Lagoons: Eliminates Odor, Lowers BOD and Increases Bacterial Digestion for Lower Sludge Production



WENDELL, N.C. -- Fortrans Inc., in Wendell, N.C., announces a highly effective aeration system that will eliminate odor and reduce BOD in animal waste and sanitary waste lagoons. The system is designed to aerate and vigorously mix dissolved oxygen into high solids wastewater lagoons. The systems employ patented non-fouling Dif-Jet™ gas injectors to mix large quantities of dissolved oxygen (from air) into the wastewater. High impact mixing is inherent to the system and gives the dissolved oxygen superior contact with the beneficial bacteria.



Supplemental Aeration System

The system uses 400 to 1200 GPM shore based dry pit type, glycol cooled, electric submersible pumps designed to handle solids up to 3" diameter. The pump is located in a flooded sump that receives the wastewater. The wastewater is then pumped through our patent pending manifold and distribution system where the Dif-Jet™ gas injectors on the piping manifold are connected to air piping from a rotary lobe blower. The oxygenated wastewater is then returned to the wastewater lagoon at 550 Gallons per minute via the discharge pipe. This will establish a vigorous circulation in the lagoon.



Blower HP is dictated according to pounds of dissolved oxygen (DO) per hour required to reduce the BOD contained in the wastewater and the number of Dif-Jet™ injectors connected to the manifold. Each Dif-Jet gas Injector can provide approximately 3 pounds of DO per hour per HP at nominal depth of 2.5' per Standard Method Testing. Our standard methods testing are certified by an independent engineer, PE. PhD with over 20 years experience in aeration. Fortans has compiled a significant database of SOTR, SOTE and SAE information on our Dif-Jet gas injectors.



It is interesting to note the Dif-Jet™ gas injectors can inject any water soluble gas into wastewater without fouling or clogging. This is important because there have been many advances in low cost oxygen generators and significant cost reductions in ozone production so both of these gases can be employed at lower costs than ever before in wastewater treatment, where applicable.



Fortrans' systems will be of great value in eliminating the systemic odor problems that plaque the areas surrounding the swine, and other animal farms, and cause much distress to the neighbors of such operations. In addition, the land application of the treated sludge will be much less odorous. The cost of treatment is minimal compared to other systems currently offered to the farmers. Hopefully, the companies that purchase the animals will consider subsidies to the farmer to offset the purchase and cost of operation. In some states, class action lawsuits are in progress that will likely force some action to reduce odors by the farmers and buyers of these animals.



Fortrans offers trial installations at a nominal charge. Our systems are sold on a guaranteed performance basis. Visit www.FortransAeration.com or email rcooke@fortransinc.com



Media Contact:

Robert Cooke

866-958-7267

919-365-8004

Email

www.FortransAeration.com

More from Architectural & Civil Engineering Products