Non-Destructive Dry Ice Cleaning is environmentally sustainable.
Press Release Summary: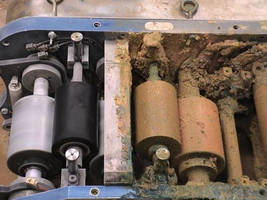 Made from reclaimed CO2, dry ice blasting solution cleans in-place without disassembly or cool down to remove dirt, soot, grease, and oil built up in facilities, industrial equipment, machinery, machine tools, and assembly line equipment. Industrial cleaning solution, which also removes adhesives, oil, and grease build-up, is non-abrasive, non-conductive, and non-corrosive. It does not produce CO2 or add CO2 to atmosphere, does not use water, and is clean and safe.
---
Original Press Release:

Khemsoft Offers Environmentally Sustainable Non-Destructive Industrial Cleaning



Mount Sterling, KY

A new industrial cleaning solution offered by Khemsoft called dry ice blasting is an environmentally friendly and sustainable cleaning method that can help any business improve their environmental impact. Whether the commercial business needs a dry clean, they are trying to reduce the amount of water or chemicals used or are trying to enhance sanitation or cross-contamination prevention programs, dry ice blasting provides the environmentally sustainable answer.



Khemsoft's process is completely environmentally responsible. In addition to being clean and safe, it is also important to remember that Khemsoft's dry ice is obtained as a byproduct of other industrial processes - i.e. it is made from reclaimed CO2. It does not produce CO2 or add CO2 to the atmosphere and therefore does not contribute to the greenhouse effect. Dry ice blasting is truly, and completely, environmentally friendly!



Khemsoft's owner, Chad Jones, stated, "Khemsoft delivers high quality, eco-friendly, cutting edge technology for industrial maintenance clients while providing cost savings and efficiency improvements and simultaneously protecting the environment."



Dirt, soot, grease and oil build up in production facilities causes machinery to function improperly and can create an unsafe working environment. Effective cleaning extends the life of electric motors, reducing or eliminating costly repair, replacement or rental programs. However, manual cleaning is often delayed to prevent the shut-down of production lines.



Khemsoft's dry ice blasting equipment provides a quick, safe, non-toxic and economical cleaning solution for facilities, industrial equipment, machinery, machine tools and assembly line equipment. Any item that is part of a production process can be cleaned on-line and without requiring cool-down.



Khemsoft's ice blasting cleans in-place without disassembly or cool down and is non-abrasive, non-conductive, non-corrosive and does not use water. Khemsoft's systems can clean on and around hydraulic power units and electrical power and distribution components. Additionally, adhesives and oil and grease build-up are easily removed by dry ice blasting.



Read more: http://www.digitaljournal.com/pr/2882333#ixzz4AXsqma00

More from Architectural & Civil Engineering Products