Non-Contact Safety Switches feature IP69k sealing.
Press Release Summary: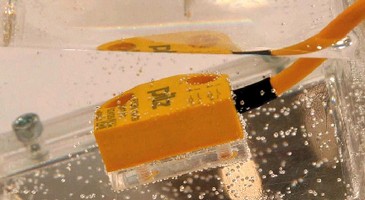 Featuring pre-fitted cable for applications in food and packaging industry, PSENmag Magnetic Safety Switches are leak-proof and resistant to cleaning agents. They have coded actuator, which contains several permanent magnets of different polarity that switch reed contacts within reading head. Use of coded actuator eliminates possibility of operating switch unintentionally and guarantees security against manipulation. Safe switching distance of 8 mm allows flexible application options.
---
Original Press Release:

Non-Contact Safety Switches with IP69k from Pilz



The incorrect use of non-contact safety switches in the food and packaging industry can have a costly, even catastrophic effect. In this special environment, moisture and resistance to cleaning agents are just as important as the ability to guarantee the actual safety function. Even as such safety switches are being developed, the focus must be directed on the potential application area.

Safety switches that cover safety-related aspects such as positive opening and are safe from manipulation (in accordance with EN 1088) are used to protect safety gates and for position monitoring. The signals are evaluated through compatible safe control technology, which also stops the machine and its process in the case of danger. Movable guards in the form of protective hoods prevent access to potentially dangerous movements of packaging and production machinery. The safety switches detect the position of the protective hoods. In this sector, the application options for mechanical safety switches are limited. With a mechanical action principle, in this environment the disadvantage of these safety switches is that they can only achieve protection class IP65 or IP67 (in accordance with IEC EN 60529). Both dust and liquids can get into the sensor and lead to the loss of the safety function. Safety devices with mechanical safety switches also must be aligned precisely to ensure that there is no problem when guiding the actuator into the safety switch. The introduction of non-contact safety switches has made this a more attractive proposition for the food and packaging industry, whether they operate magnetically, inductively or by any other method.

IP69k seals it tight
The specific requirements of engineering do not necessarily apply for the rigorous requirements of the food and packaging industry. Protection against moisture - including the use of high-pressure cleaners in extreme cases - presents quite a challenge to these switches. A high protection class of IP69k (in accordance with DIN 40050 Part 9) is a key feature in preventing the ingress of liquids into the safety switch. To prove compliance with IP69k, the sensors must be able to withstand water pressure of 100 bar and a temperature of 80°C. To do this, a flat fan nozzle is positioned at close range to the sensor (100 to 150mm) and at various spray angles. The sensor is exposed to the water jet for 30 seconds at a time. One fundamental weak point when using standard safety switches is the interface with the connection contacts. One effective option to prevent liquids from penetrating the inside of the unit via the plug-in connection is to use a fixed-cable connection.

Effective against cleaning agents
For hygiene reasons, another important factor when protecting against liquids is to make the safety switches resistant to the use of cleaning and disinfectant agents. To some extent the cleaning agent acts aggressively toward the safety switch material and its cable connection. This endangers the long-term service life and safe function of the sensors. Material resistance tests check the resistance of sensors towards the cleaning and disinfectant agents normally employed in the food and packaging industry. In this test procedure the sensor is completely immersed in the test medium for 28 days. Foam cleaning/disinfectant agents commonly used in the food industry are used.

Safely up to Category 4
Pilz developed the PSENmag magnetic safety switches with a pre-fitted cable specifically for applications in the food and packaging industry. In accordance with protection class IP69k, they are absolutely leak-proof and also resistant to cleaning agents. The safety switches have a coded actuator, which contains several permanent magnets of different polarity. These magnets switch reed contacts within the reading head. For the safety function of the switches to be effective, the contacts must be monitored using the appropriate evaluation device, ensuring that the machine is brought to a halt as quickly as possible if the guard is opened. Compatible systems as a complete solution comprising evaluation device and switch are ideal, as they enable safe application up to Category 4 of EN 954-1 (ISO 13849-1) for users in the packaging and food industry. Pilz can supply PSENmag magnetic safety switches in conjunction with safety relays from the PNOZ X product lines or the PNOZmulti modular safety system for evaluation. Use of a coded actuator eliminates the possibility of operating the switch unintentionally and guarantees security against manipulation. A safe switching distance of 8 mm allows for flexible application options. PSENmag that comply with the Ex directive 94/9/EC (Ex II 3GD EXx nC T6) also are available for applications in potentially explosive atmospheres. The sensors are suitable for use in Zone 2 (Gas-Ex) or Zone 22 (Dust-Ex).

Applications of non-contact safety switches in the food and packaging industry now exceed applications of mechanical safety switches. The fact that machines continue to be more compact also means that these safety switches have to be adapted to suit the environmental conditions.

Sven-Philipp Abraham is a project manager for Pilz GmbH & Co. KG.

Pilz Automation Safety L.P.
U.S. subsidiary of German Pilz GmbH, Europe's largest and most-respected maker of safety automation equipment, offers leading-edge safe automation solutions and control products.

Products include sensor technology, electrical monitoring relays, automation solutions with motion control, safety relays, programmable safety and control systems and an operating and monitoring range. Safe bus systems are also available for industrial networking. Pilz was the first to develop: the Emergency Safety Relay, the PNOZ product line, now the industry standard; all-electric safety relay, PNOZe1p: 16-amp safety relay, PNOZ power; a safe open-field bus system SafetyBUS p; one of the first Programmable Logic Controllers (PLCs); and the first three-dimensional camera-based safety system, SafetyEYE.

Pilz also provides a comprehensive range of consulting, engineering and training services. Accredited consultants are available for worldwide services for risk assessment, safety concept, safety design, CE services and safety sign-off. Applying lean manufacturing AND safety principles, Pilz LEANsafe(TM) methods increases productivity and safety.

More from Architectural & Civil Engineering Products