Non-Contact Radar Made Better by BinMaster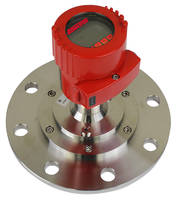 80 GHz Radar Options Reduce Costs & Simplify Installation
Have you found that costs often double by the time you mount, wire, and install a sensor? Wouldn't it be helpful to work with a manufacturer that helps you reduce the total time and cost of installation?
Today it seems that every level sensor company offers a high-powered non-contact radar. However, not all of them offer a total solution. BinMaster, with its vertically integrated machine shop and in-house engineering department makes sure you not only get the sensor you need, but the solution you need at a budget that won't break the bank.
Take mounting your non-contact radar, for example. What if your roof isn't flat? BinMaster designed and manufacturers both 0° and a 30° mounting plates. What if you can't mount the sensor directly over the area you want to measure? Instead of putting another hole in your silo, BinMaster offers 10° and 8° swiveling holders with directional aiming. Plus, BinMaster offers a variety of flange sizes and adapter flanges to eliminate the need for on-site or contracted fabrication. To reduce wiring costs, BinMaster offers wireless gateways and transceivers to eliminate long spans of costly wiring.
Who wants to run to the control room every time you need a reading? BinMaster offers a local data display that is affordable and can be mounted in a convenient location for push-button access to level data from the ground or a vehicle.
BinMaster also offers Binventory™ PC software for inventory management for your entire operation conveniently on your LAN, WAN, or VPN. You can even integrate other types of sensors into Binventory™ so you can manage all of your sensors and silos from one software.
What if you need anywhere, anytime access to your inventory even when you're away from the office? BinMaster offers BinView for just that. The cloud-based application works anywhere on any device with internet access. That means your phone, tablet, or PC can get you the data you need, where you need it. BinView is also compatible with a wide variety of BinMaster sensors and just about any sensor that has a 4-20 mA output or Modbus RTU. Get the remote inventory monitoring you need, whether it's one or multiple locations, state, country, or worldwide.
About BinMaster
BinMaster is an ISO 9001:2008 certified US manufacturer of point and continuous level indicators and inventory management systems used for monitoring the level of bulk solids or liquids in bins, tanks, silos and hoppers. Material management solutions include all-digital grain monitoring systems, flow detection sensors, and complete solutions using wireless devices & web applications to send data to a control room, console, SmartPhone, tablet, or PC. Robust, custom systems can be developed for a single site or networked for every bin, tank, and silo across a multi-national operation. For more information about BinMaster, visit www.binmaster.com.
More from Materials