Position Sensors / Detectors / Transducers
Non-Contact Position Sensor offers 360° continuous rotation.
Press Release Summary: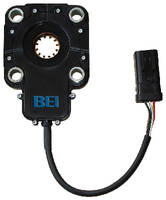 Supplied in 15.55 x 82 x 113 mm, through-hole, hollow shaft package, 8360 Series suits applications where space and mounting flexibility are critical. It can fit around or over shaft and distinguishes 0.088° increments of motion with accuracy of better than ±2 mechanical degrees at room temperature. Along with 12-bit resolution, features include redundant, dual analog outputs; IP65 sealing; and support for application-specific modifications.
---
Original Press Release:

BEI Duncan Electronics Introduces Non-Contacting Position Sensor Featuring Through-Hole Design, 360 Degree Continuous Rotation, and Multiple Options for Customization



IRVINE, Calif. - Oct. 20, 2009 - BEI Duncan Electronics, a company of Custom Sensors & Technologies (CST), has added the 8360 Non-Contacting, Through-Hole Position Sensor Series to its comprehensive line of robust, highly accurate position sensors. Featuring 360 degree continuous rotational capabilities in a low-profile, through-hole package, the new device provides an ideal solution for applications where space and sensor mounting flexibility are critical. A wide range of optional parameters can be specified to meet individual customer requirements.

Designed in a durable package, the 8360 is especially suited for applications in harsh environments such as industrial vehicles/material handling, agricultural and construction equipment, process controls, marine, aero-defense, energy, robotics, medical systems and valve actuation. Specific uses include position sensing for steering wheel, boom angle, throttling, pivoting, and traction control.

The 8360 Sensor's hollow shaft package is less than 16mm thick, allowing easy interface to space restricted applications as well as applications where a blind shaft mount is not feasible. With its thin through-hole package, the sensor can fit around or over the shaft, offering OEMs and design engineers complete versatility.

Incorporating highly precise positioning capabilities, the 8360 distinguishes 0.088 degree increments of motion with accuracy of better than ±2 mechanical degrees at room temperature over a full 360 degrees of continuous rotation, and 12 bit resolution. Other outstanding characteristics include redundant, dual analog outputs that provide maximum safety, superior reliability and long service life, especially important to safety-critical applications. The 8360 also features IP65 sealing, an operating performance across a wide temperature range of -30º to + 85ºC (-22º to 185ºF), and capabilities to withstand vibration up to 10Gs, 10-1000Hz, total PSD: 4.94 Grms; and 50Gs shock, half sine pulse of 11msec duration.

BEI Duncan can modify the standard 8360 Sensor to fit individual customer requirements from simple or complex adaptations to complete customization. Product modifications can include multiple turn capability and CAN Bus communication. Customers can also request a wide variety of other adaptations including electrical angle, shaft interface, connector type, cable length, output slope, communication protocol, IP67 sealing, operating temperatures to 125º C, input voltage, and active rotational angles other than 360 degrees.

"To our knowledge, this one of the few though-hole, non-contacting position sensors available on the market today," says John Pindroh, BEI Duncan Business Development Manager - Position Sensor and Switch Products. "The 8360's flexible through-hole design combined with the durability and reliability of non-contacting technology and 360 degree continuous rotational capability, make it a unique product that we anticipate will fulfill a wide range of OEM requirements across many industries and applications."

The 8360 measures just 15.55 mm by 82mm by 113mm (HxWxL) and is manufactured in BEI Duncan's ISO9001 certified manufacturing facility. Availability is eight weeks for delivery.

For further information, go to www.beiduncan.com/pdf/model_pdf/ds_8360_Series.pdf or contact BEI Duncan Electronics, 170 Technology Drive, Irvine, CA 92618-2401, Tel: (949) 341-9500; Fax: (949-453-2700, E-mail: sales@beiduncan.com, Web: www.beiduncan.com.

About BEI Duncan Electronics

BEI Duncan Electronics is a company of Custom Sensors & Technologies (CST). BEI Duncan produces cost-effective and reliable precision rotary sensors, encoders, linear position sensors, sensor elements and assemblies, and switches for a broad range of applications. From automotive to avionics, consumer to robotics, instrumentation to heavy equipment, BEI Duncan products fill an important niche wherever accuracy, reliability, space-conscious devices are needed. www.beiduncan.com

About Custom Sensors & Technologies

Headquartered in Moorpark, CA - Custom Sensors & Technologies (CST) is comprised of industry-leading brands including Crouzet, Kavlico, Crydom, and former divisions of BEI Technologies - Newall and Systron Donner. CST provides sensors, controls, and actuation products for the Transportation, Industrial and Aerospace & Defense markets. www.cstsensors.com

More from Test & Measurement