Motion Sensors / Detectors / Transducers
Non-Contact Position Sensor meets demands of off-highway machines.
Press Release Summary: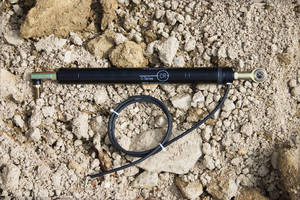 Temposonics® C-Series Model CR Rod and Cylinder sensor has 2 mm thick steel mechanical package and internal, non-contact piston-mounted magnet on rod that extends and retracts to measure motion. Operating in temperatures from -40 to +167°F, it has linearity up to ±0.15 mm and repeatability of ±25 microns, as well as IP 67 rating for use in harsh environments. It is offered in analog 5 or 12 Vdc output versions, in stroke lengths of 72.3, 109.3, 148, 186.3, 217.3, and 250.1 mm.
---
Original Press Release:

MTS C-Series Model CR Sensor Meets Demands of Off-Highway Machines



CARY, NC - The new Temposonics® C-Series Model CR Rod and Cylinder sensor from MTS Systems Corp, Sensors Division finds early adoption in an increasing number of off-highway machine designs. The cost-optimized Model CR sensor integrates MTS' proven standard Model CS or CM sensor inside a tough and rugged (2 mm) thick steel mechanical package ready to protect the sensor from the mechanical pounding and environmental scourges seen by off-highway machines. The heavy-duty packaging and non-contact technology, along with its design for minimal modification mounting, makes the CR sensor a quickly adoptable yet reliable alternative to other rod-and-cylinder style sensors that migrated from indoor purposed packages.

"We wanted to offer a package that was more substantial than those in the existing marketplace and we feel that we have achieved that with this heavy steel package," said Jesse Russell, product manager, MTS Sensors.

"These sensors are being designed into tough wear-and-tear environments where embedded technologies may not be the best option due to speed of adoption, fit or performance. Now, we have a quick, externally mounted sensor solution that can meet those needs while providing a non-contact technology that assures long-term operation despite repetitive movement in challenging environments."

Commonly, equipment designers had specified sensors like potentiometers in applications such as steer-by-wire, machine leveling, body control, suspension control, boom positioning and other machine member position-control requirements. They found that potentiometers don't have the durability due to their thinner, lighter materials. In addition, potentiometers are a contact technology that is affected over time by repetitive motion in dirty, abrasive, wet applications that accelerate wear. Linear Variable Differential Transformers (LVDTs) also need guided, maintained clearance to the core that can be worn away in that environment. In both, sensor wear eventually deteriorates the performance level of the equipment.

Employing proven magnetostrictive, absolute, non-contact position sensing technology modules, the Model CR sensor contains an internal non-contact piston-mounted magnet on a rod that extends and retracts to measure motion. The Model CR package features a (2 mm) thick housing, stiff (12.5 mm) rod and is IP 67 rated, making it capable of withstanding a variety of harsh-environment applications. The versatile mechanical package of the Model CR enables easy bolt-on installation via the integrated M10 x 1.5 stud and rod end or with optional swivel studs or ball ends.

The Model CR Rod and cylinder sensor is available in two analog models, a 5 Vdc supply ratiometric output version and 12 Vdc supply reference voltage output version. Additionally, the 12 Vdc model features protection from over-voltage and reverse connection, EMC protection for both emissions and immunity and the option to be operated at 5 Vdc, at which point its output becomes ratiometric. Contact the factory about serial digital model availability.

Featuring a linearity of up to ±0.15 mm and sensor repeatability of ±25 microns, the Model CR is available in six standard stroke ranges: 72.3 mm, 109.3 mm, 148 mm, 186.3 mm, 217.3 mm, and 250.1 mm. Connection is made using a three-wire, one-meter cable with 24 or 18 AWG wire. Operating temperatures range from -40°C (-40°F) to +75°C (167°F).

For more information about Temposonics linear-position sensors and liquid-level measurement, please contact: MTS Systems Corp, Sensors Division, 3001 Sheldon Drive, Cary, NC 27513. Phone: +1-919-677-0100. E-mail: sensorsinfo@mts.com or visit www.mtssensors.com.

MTS Sensors, a division of MTS Systems Corp., is the global leader in the development and production of magnetostrictive linear-position and liquid-level sensors. MTS Sensors Division is continually developing new ways to apply Temposonics® magnetostrictive sensing technology to solve critical applications in a variety of markets worldwide. With facilities in the U.S., Germany, Japan, and China, MTS Sensors Division is an ISO 9001 certified supplier committed to providing customers with innovative sensing products that deliver reliable cost-effective sensing solutions.

More from Material Handling & Storage