Sensors / Detectors / Transducers
Non-Contact Magnetic Sensors offer 360° angular measurement.
Press Release Summary: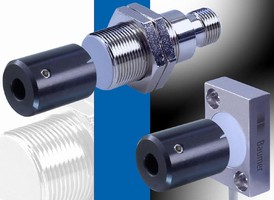 Resistant to vibration, dirt, and moisture, MDRM/MDFM sensors are designed to replace potentiometers used to measure angles and determine location of continuously moving parts. Maintenance-free, IP67-rated products can measure 360° of rotation without dead band and are available in 8- and 12- bit versions featuring respective signal resolutions of 1.41° and 0.09°. Current or voltage outputs are included for direct connection to standard interfaces.
---
Original Press Release:

Non-Contact Wear-Free Magnetic Sensors Offer 360-Degree Angular Measurement



Compact Units Resist Vibration, Dirt, Moisture

Southington, Conn. - June 10, 2008.... To replace potentiometers used to measure angles and determine the location of continuously moving parts, Baumer Ltd. has introduced the MDRM/MDFM non-contact magnetic sensors. Reliable and maintenance-free, these compact sensors can measure 360 degrees of rotation without a dead band. They deliver long-term performance in dirty and high vibration operating environments and feature no bearings, wiper contacts or other moving parts that wear and break down over time.

The compact MDRM/MDFM sensors feature rectangular housings with a mounting depth of just 8mm or cylindrical housings that can be installed in a variety of narrow, space restricted locations. The 8-bit sensor offers a signal resolution of 1.41 degrees suitable for applications that require course positioning, for example heavy duty equipment and vehicles. The 12-bit sensor provides a maximum resolution of 0.09 degrees for highly precise control systems such as those found in medical or rehabilitation equipment and robotic applications.

The IP67-rated sensors feature current or voltage outputs that allow direct connection to standard interfaces without additional conversion. The sensors can accommodate cable or connector interfaces.

MDRM/MDFM Magnetic Sensors can be incorporated into medical/rehabilitation/training, machine tool, packaging, textile production, printing, wood/timber/steel processing, energy generation, and robotic equipment and machinery, and can also be used on heavy-duty vehicles and equipment. In such applications, these sensors can determine the current position of shafts, rollers, tabletop equipment, robotic arms, pedals, lifters, grippers, containers, webs, solar panels, .

For more information on the Baumer MDRM/MDFM Magnetic Encoder, contact Baumer Ltd. at (800) 937-9336, baumerelectric.com/usa, or via e-mail at MAILTO:sales.us@baumergroup.com. Baumer Ltd. is a global leader in the design, manufacture and marketing of high quality, precision sensors since 1952 serving a variety of markets including Automation, Graphics, Robotics/Material Handling, Medical, Machine Tool and Specialty Machines.

Baumer Ltd.
860-228-8056