Non-Contact Laser Scanner mounts to portable CMMs.
Press Release Summary: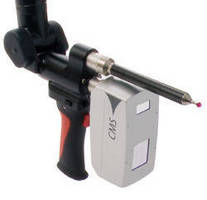 Designed to mount with kinematic joint to 7-axis ROMER portable CMMs, Model CMS108 features accuracy of 20 microns, making it suited for inspection and reverse engineering applications. Flying dot technology allows scanner to rapidly detect changes in color and surfaces via reflectivity. Operator can scan difficult finishes, including shiny and mirrored surfaces, without making manual exposure adjustments, and scanner can transition from matte to shiny features without additional calibration.
---
Original Press Release:

ROMER Rolls Out the New CMS108 Inspection and Reverse Engineering Solution



High Accuracy Laser Scanner Quickly Adapts to Changes in Color and Reflectivity

North Kingstown, RI - - ROMER Inc., a brand of Hexagon Metrology Inc, announced today the launch of CMS108, a high-precision, non-contact laser scanner available for their portable coordinate measuring machines. The newest option in ROMER's laser scanning portfolio, the CMS108 is the most adaptable and adept at scanning a wide range of materials with enhanced sensitivity to color and surface finishes. Its improved accuracy makes it attractive for inspection and reverse engineering applications where laser scanners have been unable to meet tight tolerances. The CMS108 mounts with a kinematic joint to the seven-axis ROMER portable CMMs, which include the Absolute Arm SE and the Infinite 2.0 SC Arm.

The CMS108 is the most precise laser scanner offered by ROMER with an accuracy of 20 microns, which is a 16% gain in accuracy over previous scanning solutions. In addition, the device was engineered for applications with a wide variety of color and surface finishes. Flying dot technology allows the laser scanner to rapidly detect changes in color and surfaces via their reflectivity. An operator can scan traditionally difficult finishes, including shiny and mirrored surfaces, without making manual exposure adjustments. The laser scanner can transition from matte to shiny features without additional calibration. With 3 different line widths and differing point densities, the CMS108 is able to perform inspection routines on small intricate parts and large surfaces.

"The CMS108 is the perfect addition to our portable scanning portfolio," states Eric Hollenbeck, Hexagon Metrology's Product Manager for portable products, "With versatility and an exceptional data collection rate, we now offer an incredibly accurate scanner capable of inspecting different consecutive surfaces on the fly with no adjustments. The CMS108 system integrates our industry leading Scanning System Specification which specifies and calibrates the arm and scanner as a single unit. Although any organization with portable metrology requirements could potentially benefit from this technology, typical users include those in the automotive, aerospace, medical, rail, and energy production industries. The addition of the CMS108 to our lineup demonstrates Hexagon Metrology's commitment to offering the customer unrivaled choice in portable metrology."

The CMS108 is currently available for the seven-axis Absolute Arm SE with measuring ranges of 2, 2.5, 3, 3.5, 4, and 4.5 meters. The sensor can also be added as an upgrade to the seven-axis Infinite 2.0 SC Arm. Both products are produced in the new, state-of-the-art facility in Oceanside, California.

About Hexagon Metrology, Inc.

Hexagon Metrology serves the high precision measurement and inspection needs of worldwide manufacturers with its extensive line of metrology hardware, software, accessories and customer services. The company's name-brand portfolio of quality assurance products include Brown & Sharpe, Cognitens, Leica Geosystems, ROMER, Sheffield, PC-DMIS, DEA, Leitz and TESA. Hexagon Metrology has an unrivaled installed base of more than 1.5 million handheld, stationary and portable measurement devices, and over 35,000 seats of PC-DMIS metrology software. More information is at www.HexagonMetrology.us.

The company is a business unit of Hexagon AB (Stockholm, Sweden), Hexagon's is listed on the NASDAQ OMX Stockholm exchange (HEXA-B) and has a secondary listing on the SIX Swiss Exchange. The Hexagon group consists of more than 12,000 employees located in 43 countries, and net sales of about 2.2 billion Euro.

For further information, please contact:

Hexagon Marketing Contact: Bill Fetter, Hexagon Metrology, Inc.

(847) 214-5234, william.fetter@hexagonmetrology.com

Link to press release: http://hexagonmetrology.us/news-and-events/245-romer-rolls-out-the-new-cms108-inspection-and-reverse-engineering-solution

More from Fluid & Gas Flow Equipment