Non-Aerosol Light Oil Lubricant resists corrosion.
Press Release Summary: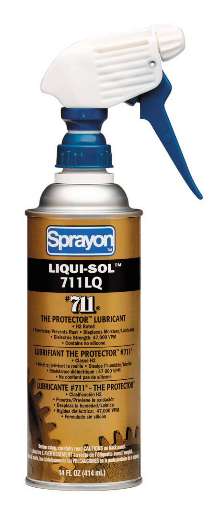 Sprayon® 711 Liqui-Sol(TM) packaging features reusable spray trigger with adjustable spray dial that enables fan spray to pin stream. Sprayon 711 penetrates, lubricates, demoisturizes, and inhibits corrosion while offering dielectric strength of 47,000 volts. NSF approved and H2 rated, Sprayon 711 meets requirements of MIL-C-23411 and Naval Ordinance Systems Weapons Specs WS-14138. Product suited for use on bearings, machinery, electrical wiring, and connectors.
---
Original Press Release:

Diversified Brands Sprayon® 711 Now Available In Non-Aerosol Liqui-Sol(TM) Formulation.


Cleveland, Ohio - Diversified Brands now offers Sprayon® 711 in a non-aerosol Liqui-Sol(TM) formulation. Sprayon Liqui-Sol light oil lubricant provides a 100% usable product by eliminating the need for propellants. As a non-aerosol product, Liqui-Sol greatly reduces safety concerns regarding product storage, application and disposal. The Liqui-Sol packaging also features a reusable spray trigger with an adjustable spray dial to meet the individualized needs of the application, from fan spray to pin stream.

Known as The Protector(TM), Sprayon 711 penetrates, lubricates, demoisturizes and inhibits corrosion on numerous kinds of substrates. NSF approved and H2 rated, Sprayon 711 meets the performance requirements of MIL-C-23411 and Naval Ordinance Systems Weapons Specs WS-14138. It also has a dielectric strength of 47,000 volts.

Sprayon® Liqui-Sol(TM) 711 is ideal for use in general maintenance applications on bearings, machinery, electrical wiring, ignition systems, connectors, linkages, circuitry, transformers, transmitters, operating controls, nuts and bolts, and production equipment of all kinds.

Diversified Brands, a business unit of the Sherwin-Williams Company, offers a comprehensive line of commercial products to meet the specific and dynamic application needs of the industrial and contractor end-user market. The company manufactures and supplies premium paints, applicators, lubricants, electronic cleaners, degreasers, adhesives and caulks for use in numerous industries, including manufacturing, construction, food processing, aviation, telecommunications, and MRO. With its vast resources, Diversified Brands holds a leadership position in technological advances, developing new innovations and consistently improving product offerings to deliver high quality, high performance solutions.

For additional information on Sprayon® 711 in the new non-aerosol Liqui-Sol(TM) formulation, contact: Diversified Brands, P: 1.800.777.2966, F: 1.800.243.3075, or visit www.diversifiedbrands.com.

Contact:
Beth Mooney
Marketing Manager, Industrial
Sherwin Williams, Diversified Brands
Phone: 216-515-7804
Email: Beth.Mooney@sherwin.com

More from Architectural & Civil Engineering Products