Noise Control Panel Echo Barrier H2 Now Exclusively Distributed in the US by Acoustical Surfaces, Inc.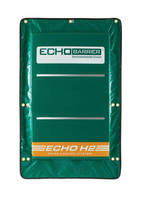 Acoustical Surfaces, Inc. has become the exclusive US distributor of the Echo Barrier H2, an innovative soundproofing fencing solution that minimizes noise for a variety of industry applications.



Acoustical Surfaces, Inc. (ASI), a soundproofing and noise control specialist located in Chaska, MN, announced today that it is now the exclusive United States distributor of the Echo Barrier H2, a noise control panel that minimizes sound emanating from construction sites, highways, power facilities, floor and roof mounted HVAC systems, mass transit, and more. Designed to latch on to all types of temporary fencing, the H2 follows on the heels of the H1, an earlier Echo Barrier model that proved to be a landmark innovation in noise control.



The sound absorbing Echo Barrier H2 leads to improvements for all parties affected by noise. Companies have found that reduced noise has resulted in fewer complaints, which in turns enhances their reputation and standing in the communities where they operate. The Echo Barrier H2 panel is also durable and long-lasting, allowing operations to continue later than normal, resulting in greater efficiency and cost savings.



The Echo Barrier H2 panel dramatically improves working conditions as well. The pads are light to carry and quick to install. Most importantly, it means employees aren't bombarded with excessive noise all day, leading to increased focus and productivity. For residents, the benefits are more obvious. Less noise means less interruption of daily life, and a more pleasant living experience near noisy sites.



"The Echo Barrier H2 is a groundbreaking improvement in noise reduction," says JR Anderson, President of ASI. "Rarely can a single product enhance the comfort and productivity of every stakeholder involved, including nearby residents and working people, and workers themselves. This noise control panel does."



Other product attributes worth noting are water resistant, weatherproof and fire retardant materials, reflective strips to aid nighttime visibility, and a unique roll-up features for compact storage. More information, including images and technical specifications, can be found on the Acoustical Surfaces Echo Barrier H2 noise control panel web page.



About ASI

Acoustical Surfaces, Inc. is the industry's foremost expert on soundproofing, acoustics, noise control andvibration control for a variety of commercial and residential applications. For more information about ASI and soundproofing, including literature, tips, and case studies, visit www.acousticalsurfaces.com.



Related