Noise Blocking Earmuffs are designed for all-day wear.
Press Release Summary: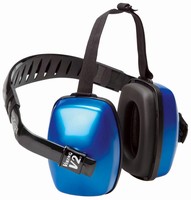 Utilizing Air Flow Control(TM) technology, Viking(TM) Series offers attenuation levels to 25 on V1 model, 27 on V2, and 29 on V3. Multi-position headbands give workers flexibility to wear earmuffs over-the-head, behind-the-head, or under-the-chin, allowing them to be worn with hard hats, face shields, respirators, and other PPE. Along with snap-in ear cushions, earmuffs feature dielectric construction with ABS plastic. Models V2 and V3 feature dual-headband design.
---
Original Press Release:

Bilsom Upgrades Viking(TM) Series Earmuffs with Air Flow Control(TM)



Smithfield, RI -- Bilsom has upgraded its popular Viking(tm) Series noise blocking earmuffs to incorporate its patented Air Flow Control(tm) technology (AFC), which delivers optimal attenuation across all frequencies without increasing earcup size or weight. Viking Series multi-position headbands give workers the flexibility to wear their earmuffs over-the-head, behind-the-head, or under-the-chin, allowing them to be worn with hard hats, face shields, respirators, and other PPE.

"Our Air Flow Control technology has proven so effective we're extending it to other products in the Bilsom(R) Noise Blocking earmuff segment," said Bill Sokol, Vice President Strategic Marketing for the Bacou-Dalloz Hearing Safety Group. "As sound travels through the air in our AFC earcups, a patented baseplate chamber and high-tech non-woven layer manage the flow of air inside the earmuff to control how sound reaches the ear," Sokol explained. "The result is better, more consistent overall attenuation across all frequencies and in almost all industrial noise environments without increasing earcup size or weight."

Air Flow Control Technology has boosted attenuation on the V1 model from 23 to 25, and V2 model from 25 to 27. Attenuation on V3 remains at 29, though with improved lower frequency attenuation.

Designed to provide all-day comfort, Viking Series V2 and V3 earmuffs feature a dual-headband design with an inner ventilated band for better positioning and breathability, and a non-deforming outer headband that minimizes pressure on the head. An improved attached elastic headband strap provides additional comfort and helps to ensure attenuation when earmuffs are worn in other than over-the-head positions. Snap-in ear cushions make replacement quick and easy, and dielectric construction with rugged ABS plastic makes Viking Series earmuffs suitable for almost all workplaces, and especially for electrical and mining environments.

Bilsom was founded in Sweden in 1968 and leads the industry in developing innovative sound management technologies that are used in some of the most challenging environments in the world.

Combining the innovation and expertise of Howard Leight(R) Earplugs and Bilsom(R) Earmuffs, the Bacou-Dalloz Hearing Safety Group is a world leader in hearing safety.

Bacou-Dalloz is the world leader in the design, manufacture and sale of personal protective equipment, offering a comprehensive range of safety products designed to protect people from hazards in the workplace. The Group specializes in head protection equipment (eye and face, respiratory and hearing protection), body protection equipment (clothing, gloves and footwear) and fall protection equipment. With a worldwide presence and over 6,000 people, Bacou-Dalloz endeavors to contribute to ongoing improvements in workplace health and safety by providing innovative, comfort-engineered products that workers want to wear. The Group's products are sold through a worldwide network of distributor partners for use in all sectors of activity (construction, manufacturing, telecommunications, homeland security, petrochemicals, medical, public services, etc.). Bacou-Dalloz is listed on the Premier March© of the Euronext stock exchange in Paris, and is part of the SBF 120 index.

For additional product information, contact:
Bacou-Dalloz Hearing Safety Group
7828 Waterville Road
San Diego, CA 92154
Tel: 800/430-5490
Fax: 401/232-3110
email: rbessette@bacou-dalloz.com
http://hearingportal.com

More from Machinery & Machining Tools