No-UV 450 nm EPTA LED Lights are Offered with 50,000-hour L70 Rating
Press Release Summary: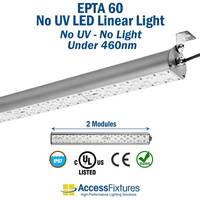 Available in 30 w, 60 w, 90 w, 120 w and 150 w models
Equipped with a diffuser and allows production facilities to meet OSHA and corporate regulations
Can be controlled using such as 0-10v dimming, occupancy sensors, and DALI
---
Original Press Release:
New No UV - No Light Below 450nm Linear Fixtures by Access Fixtures
WORCESTER, Mass., March 21, 2019 /PRNewswire/ -- Access Fixtures, a Worcester, Massachusetts-based manufacturer of commercial, sports, and industrial lighting, has released another fixture in its line of No UV - No Light Under 450nm products. The EPTA, already a mainstay in the Access Fixtures line of linear LEDs, is now available in No UV. This linear fixture is available in 30w, 60w, 90w, 120w, and 150w. Geared towards production facilities that require no UV due to certain manufacturing processes, these fixtures join the FLAT, FLYT, and no-UV APTA as one of the most cutting-edge technological advances in modern LED lighting to date. The EPTA No UV allows production facilities to meet OSHA and corporate regulations and standards like never before.
The EPTA differs from Access Fixtures' previous no-UV releases in form and size. Linear fixtures such as the EPTA are versatile and able to be mounted up to 16' high with a choice of wire mount, knuckle mount, or bracket mount. EPTA No-UV is available with an emergency battery backup as well as boasting a 50,000-hour L70 rating. EPTA No-UV replaces old fluorescent lamps with gold filters and coatings that broke down over time. Dedicated LED technology prevents this breakdown which reduces the risk of production failures.
EPTA is flicker-free and IP67 rated. EPTA No UV - No Light Under 450nm comes equipped with a diffuser that creates a pleasant light distribution that is easy to work under. There is no glare and no harsh spots with this fixture and due to the unique configuration of the LEDs, lighting is more broad spectrum than traditional gold filter tubes.
Some research and production facilities either desire to reduce energy use or are required to comply with regulations like CA Title 24. These fixtures make corporate and OSHA regulations easy to meet compared to traditional gold filter tubes. EPTA is ready for most if not all controls including 0-10v dimming, occupancy sensors, and DALI. EPTA is unaffected by frequent dimming or on/off cycles.
The EPTA, like its troffer cousin the FLAT, is independently lab tested and prototypes have been tested by Fortune 500 companies. The following customer reviews of Access Fixtures' no-UV technology speak volumes:
"The driving reason for moving to [Access Fixtures] LED lights is because the current [light] intensity is WAY below our and even OSHA's requirements."
"Employees prefer it. The gold-green has really improved visibility in the area."
"The modular LED fixture will be ideal for our application. Having a truly off-the-shelf option on these lights is really a huge plus for us, not to mention the tighter wavelength patterns being emitted, and no risk of lens failure."
EPTA's LED technology is exactly what production facility managers need. Its unique linear design broadens options for lighting clean rooms and production facilities and provides a different form factor than traditional ceiling troffers. Like most of Access Fixtures' other luminaires, EPTA carries a 5-year Access Fixtures warranty.
About Access Fixtures
Access Fixtures is your factory-direct source for commercial, industrial, hospitality and sports high-performance lighting solutions. With custom manufacturing capabilities, Access Fixtures builds durable, long-life LED luminaires for general lighting applications and specialty markets including transportation, freight terminals, sports fields and arenas, clean rooms, power plants, warehouses, and manufacturing facilities. Luminaire types include wall packs, area lights, bollard lights, sports lights, post top and high bays. For more information, visit Access Fixtures at www.AccessFixtures.com.
Media Contact: 

Cara Porcella 

Access Fixtures

211303@email4pr.com
800-468-9925 x 1111
More from Software