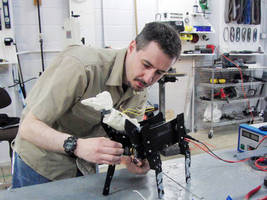 Think toys are merely child's play? Think again.



Sigma was hired to design and create a working prototype for the animatronic children's dog toy, Loveable Lola, which can be used for further manufacturing and design efforts.



Lola, a female boxer canine talks when the front right paw is pressed. She then walks, wags her tail, wiggles her hips, moves her head up and down and side to side.



Sigma used mechanical design, electrical design, and auxiliary component design skills in the making of this intricate prototype.



Contact us today and find out how Sigma Design Company can make your product a reality.



More from Electrical Equipment & Systems