No Matter What You Call Them, Tension Bushings Get The Job Done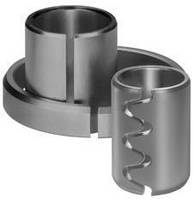 Did you know that Tension Bushings are also known as Spring Bushings, and Split Steel Bushings? No matter what you call them, these cost effective bearings are designed to replace solid steel (tubular) and case hardened parts. They are ideal for high-load/low-speed operations in harsh, non-lubricated environments.

Vogelsang Tension Bushings are close tolerance and self-retaining parts, and have chamfered ends to facilitate insertion and removal. They are hollow cylinders with a full-length longitudinal slot. Bill Pappas, Business Development Manager at Vogelsang Corporation explains, "This slot permits compression and expansion. While our standard slot configuration is straight, we do offer wavy slots."

"You can see Vogelsang Tension Bushings hard at work in many different applications and markets," remarked Pappas. Industries like Mining, Lawn & Garden, Construction, Railway, Towing, Utility, Waste & Material Handling, Truck Body and more use Tension Bushings in a variety of ways. Pappas went on to explain that "Typically, they are pressed into a low RPM pivot point as a wear part to allow for shaft rotation while it protects the surrounding structure. Or, they can be pressed into a hydraulic cylinder rod or clevis end, pivot points for grapples and shovels, as well as truck doors and landing gear. They also have an ease of installation in an equipment assembly setting, and an effortless replacement in the field."

Vogelsang manufactures their Tension Bushings to a controlled, oversized diameter. This process and the inherent elasticity of the material provide constant radial tension for tight fit - even if the bore hole becomes enlarged. Outside diameters range from 3/4 to 3-1/2", with three wall thicknesses available: 1/8", 3/16" and 1/4". Lengths range from 1/2 to 3". Metric sizes are also available. Many Vogelsang Tension Bushings are stock parts, and available in their Quick Ship (same-day shipment) select product offerings. To learn more about the Vogelsang Tension Bushings or to order, visit www.VogelsangCorp.com, or call toll free 800-526-2376.

More from Computer Hardware & Peripherals