No-Distortion, Hi-Definition Teleprompter Mirrors Supplied by Abrisa Technologies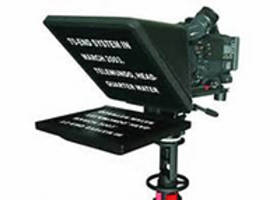 July 27, 2020 - Santa Paula, CA - Abrisa Technologies, a US based specialty custom glass fabrication and optical coating company supplies no-distortion, high-definition cut-to-order image grade mirrors for teleprompter applications.
Teleprompter use is on the rise and teleprompter mirrors manufactured by Abrisa Technologies can be fabricated for use with teleprompters as well as cameras, webcams, GoPros, and cellphones, support more work-at-home applications, distance learning, and video conferencing.
The COVID -19 pandemic is causing an increased demand for live production and conferencing with remote access for churches, schools, non-profits, companies, studios, political campaigns, and more.
Teleprompter systems have three main components: the teleprompter mirror, which is fabricated by Abrisa Technologies, the screen and the camera. The coated glass serves as a one-way mirror and is situated at an angle to reflect the image and or text from below, allowing an individual such as a lecturer, politician, spokesperson to look directly into the camera rather than at notes or a script when addressing an audience either live or broadcasted.
According to Susan Hirst, Product Development Manager, "Each teleprompter mirror has a two-sided coating. Antireflective (AR) on side 1 prevents ghost imaging. A partially transmissive/reflective coating on side 2 where the user can select from one of three options to best optimize for contrast and readability. This low-distortion teleprompter mirror prevents image degradation and maintains a high definition camera image quality." She further adds "The durable coatings are easy-to-clean and the teleprompter mirror can be supplied with either round or square corners and pencil ground or polished edge for safety and aesthetics."
Three transmission/reflectivity values can be specified depending upon the specifications of the teleprompter mirror:
65 Transmission & 35 Reflectivity (65T/35R) – most frequently specified
70 Transmission & 30 Reflectivity (70T/30R)
50 Transmission & 50 Reflectivity (50T/50R)
Abrisa Technologies is a recognized, US based, global supplier of high quality, fabricated glass components, optical thin film coatings, and custom glass solutions for diverse industries such as microelectronics and displays, semiconductor, military, automotive, aerospace, biomedical, telecom and scientific R&D. We provide custom flat glass and coating products for applications such as: flat panel display, touch and gesture recognition, imaging and surveillance, entertainment, lighting, advanced instrumentation, and photonics.
Media Contact: Lori Appel
(805) 312-5873
More from Materials