NLB 605 Convertible Pump Sets Bar for Flow and Horsepower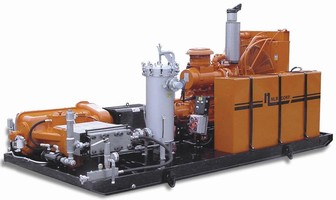 WIXOM, MICH... JAN. 24, 2006... The 605 Series water jet pump units from NLB Corp. offer higher horsepower and flow than any other convertible pump - up to 600 hp and 143 gpm (447 kw and 541 lpm). A simple conversion kit lets users operate at any of five pressures to suit their applications: 6,000, 8,000, 10,000, 15,000, or 20,000 psi (414 to 1,400 bar).

Since the conversion can be completed with just six parts (and no manifold change), operating efficiency is high and maintenance is easy. The NLB 605 has many wear-reducing features, including a slow-running triplex plunger pump and hard-coated valves and plungers. Corrosion-resistant stainless steel is used throughout the pump, instead of carbon steel. Minimum flow is 34 gpm (129 lpm).

The NLB 605 Series units all feature an internal gear pac instead of a traditional external drive. Other important features include a heavy-duty poly-chain system with belt guard and water pressure-actuated throttle control to adjust output to operator demand.

NLB Corp., a leader in high-pressure and ultra-high pressure water jet technology, manufactures a full line of quality water jetting systems and accessories for contractor and industrial uses. These include surface preparation, paint removal, tank and tube cleaning, concrete hydrodemolition, concrete and pipe cutting, and more.

More from Construction Equipment and Supplies