Nitrogen Generators offer plug-and-play operation.
Press Release Summary: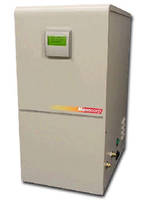 Suited for reflow, wave, or specialty soldering applications, EconoGen Nitrogen Generators consist of 2 filter beds of carbon molecular sieve. While pre-heated compressed air enters bottom of first bed and passes across sieve, oxygen and trace gases are preferentially absorbed as nitrogen is allowed to pass though to enter low-pressure storage tank. As one bed becomes saturated, second bed automatically activates and takes over separation process.
---
Original Press Release:

Manncorp's 'Econogen' Nitrogen Generators Eliminate Dependence on N² Cylinders



Assemblers requiring an all-nitrogen processing environment for reflow, wave or specialty soldering applications can now produce all the volume needed in-house and at low cost. Reportedly, this is what users can expect from "EconoGen," Manncorp's new, compact "plug-and-play' nitrogen generators that eliminate reliance on outside sources for cumbersome and costly cylinders.

EconoGen systems consist of two filter beds of carbon molecular sieve. While pre-heated compressed air enters the bottom of the first bed and passes across the sieve, oxygen and trace gases are preferentially absorbed as nitrogen is allowed to pass though to enter a low-pressure storage tank. As one bed becomes saturated, the second bed automatically activates and takes over the separation process. This continuous swing in pressure between absorption and regeneration remains operative until N2 production requirements are met, or the storage tank is filled. Since the system is modular, additional low-cost tanks may be added as needed.

Manncorp CEO Henry Mann asks, "Why 'rent' nitrogen, when you can now produce it onsite and at fixed controlled cost? With EconoGen," he states, "payback could come in as little as 18 months, and after that electricity and compressed air become the only out-of-pocket operating costs." EconoGen is offered in two series, with Series 1 systems used in low-medium to high-volume applications, while Series 2 generators are for laboratory, prototyping or bench-top applications. Internet prices start at $5,100. For details, access https://manncorp.com/nitrogen-generators/

More from Machinery & Machining Tools