NIR Linear Polarizers eliminate unwanted reflections.
Press Release Summary: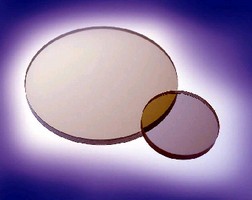 Fabricated using thin polymer film sandwiched between 2 flat pieces of B270 glass, TECHSPEC(TM) Polarizers provide uniform performance across broad spectral range, achieving extinction ratios from 40 dB at 830 nm to 50 dB at 1,310 and 1,550 nm. Average transmission is greater than 30% for wavelength range of 750-850 nm and 33% for wavelength range of 1,000-2,000 nm. Polarizers are suited for applications involving low-power NIR lasers, LEDs, and other NIR sources.
---
Original Press Release:

Near-Infrared Linear Polarizers Eliminate Unwanted Reflections



July 24, 2007, Barrington, NJ. - Edmund Optics (EO), the premier provider of optical components and tools, today announced the availability of near infra-red (NIR) linear polarizers with an extended broadband range. These high-contrast polarizers are ideal for a variety of applications involving low-power NIR lasers, LEDs and other NIR sources. Their broadband range makes them suitable for telecommunications applications such as fiber optic isolators and couplers.

The TECHSPEC(TM) polarizers are fabricated using a thin polymer film sandwiched between two flat pieces of B270 glass.

The polarizers provide uniform performance across a broad spectral range, achieving extinction ratios from 40dB at 830 nm to 50dB at 1310 and 1550 nm. The average transmission is greater than 30% for a wavelength range of 750-850nm and 33% for a wavelength range of 1000-2000nm.

Price and Availability
EO's near-IR linear polarizers are available from stock in a variety of sizes for two wavelength ranges: 750-850nm and 1000-2000nm. Sizes range from 12.5 mm diameter to 50 mm diameter. Prices start at $215, but volume opportunities are welcomed. Please contact sales@edmundoptics.com for high quantity requirements.

About EO:
Edmund Optics (EO) is a leading producer of optics, imaging, and photonics technology for R&D, electronics, semiconductor, pharmaceutical, biomedical, and military markets around the globe. EO is the world's largest supplier of off-the-shelf optical components. Customers can purchase items by contacting EO at 1-800-363-1992, via the catalog, or via the website at www.edmundoptics.com
Company Contact:

Marisa Edmund
Vice President, Marketing
Edmund Optics, Inc.
101 East Gloucester Pike
Barrington, NJ 08007 U.S.A.
Phone: 1-800-363-1992
Fax: 1-856-573-6295
email: medmund@edmundoptics.com

More from Software