Sensors / Detectors / Transducers
NIR DLP Device and Evaluation Module help advance spectroscopy.
Press Release Summary: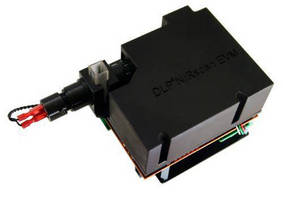 Together, DLP4500NIR single element detector and DLP NIRscan™ EVM (evaluation module) bring MEMS technology into transmittance and reflective spectroscopy. Featuring ~1 million digitally programmable micromirrors, DLP4500NIR lets engineers replace linear detector arrays to create spectrometer designs. Optimized for use with 700–2,500 nm light, product can be programmed to select and attenuate multiple wavelengths at speeds up to 4 kHz. DLP® technology architecture also enables SNRs >30,000:1.
---
Original Press Release:

TI Announces First Near Infrared DLP® Device and DLP NIRscan(TM) Evaluation Module for Spectroscopy



New products can enable programmable, portable NIR spectrometers that can significantly reduce system costs



CHICAGO -- Today at Pittcon 2014, Texas Instruments (TI) (NASDAQ: TXN) announced the first DLP(®) device optimized for use with near infrared (NIR) light, and corresponding evaluation module (EVM). Together, the DLP4500NIR and the DLP NIRscan(TM) EVM represent the expansion of TI's award-winning MEMS technology into the worlds of transmittance and reflective spectroscopy and other markets. With DLP technology, spectrometers for use in the food, pharmaceutical, oil and gas, and emerging industries will be able to deliver lab-quality performance out in the field and on the manufacturing line. Learn more at http://www.ti.com/DLPNIRscan.



"Incorporating DLP technology into our range of OEM spectrometers revolutionizes our approach to classical spectroscopy," said Henrik Skov Andersen, CEO and President, Ibsen Photonics. "Our new compact programmable polychromator with DLP technology allows pre-dispersive selection of multiple wavelengths for high-speed transmission or absorption measurements, using inexpensive broadband detectors across the VIS-NIR ranges. That unique ability will enable customers to generate dynamic measurement schemes and algorithms, gain speed and accuracy for critical applications, and protect samples from unnecessary exposure."



"We continue to push the limits of what DLP technology is capable of, opening it up for use in advanced scientific, industrial and medical solutions," said Mariquita Gordon, DLP Embedded manager at TI. "With the new, near infrared DLP platform, spectroscopy equipment designers will be able to develop a whole new class of mobile equipment that moves the sensitivity and accuracy of lab equipment to the field, while reducing their overall system cost."



DLP4500NIR device

The approximately one million digitally programmable micromirrors at the heart of DLP technology set the new DLP4500NIR device apart from other components and solutions currently available for NIR spectroscopy. When paired with a single element detector, the DLP4500NIR allows engineers to replace expensive linear detector arrays to create high-performance spectrometer designs, while reducing the typical bill of materials. Optimized for use with 700- to 2500-nm light, the DLP4500NIR can be programmed to select and attenuate multiple wavelengths at speeds up to 4 kHz. The DLP technology architecture also enables improved signal-to-noise ratios (SNRs) greater than 30,000:1 over a set measurement period for faster, more accurate results compared to spectrometers using traditional solutions.



Each of the micromirrors on the DLP4500NIR can be controlled to produce set patterns, with users able to further refine spectral resolution and wavelength ranges, adjust integration time, and equalize light throughput. As a result, users can employ adaptive scanning techniques to optimize material analysis on the fly for a broader range of substances using a single system.



The size of the DLP4500NIR allows for small product form factors, giving designers flexibility to create systems for use in the field or factory. Beyond spectroscopy, the DLP4500NIR can also be used in other applications, including single-pixel cameras, laser marking and microscopy.



DLP NIRscan evaluation module

The DLP NIRscan EVM represents a new option for engineers looking to create a truly portable, multi-function spectrometer at a lower cost. Offered as the first spectroscopy development platform based on DLP technology, DLP NIRscan includes numerous interfaces for design versatility. Featuring a DLP4500NIR device paired to a DLPC350 digital controller, DLP NIRscan also uses a single-element extended InGaAs detector matched with a transmission sampling module and a halogen lamp.



For processing power, DLP NIRscan features TI's Sitara(TM) AM3358 ARM® Cortex® - A8 Processor (AM3358), and a 24-bit, 30-kSPS delta-sigma analog-to-digital converter (ADC) (ADS1255). The built-in Ethernet port and two USB ports offer both wired and wireless (Wi-Fi(®) and Bluetooth(®), connectors sold separately) connectivity options for interfacing with a computer.



The pre-loaded Linux operating system and integrated web server, based on the BeagleBone Black architecture, allow for setting up without any special downloads - designers can simply connect the DLP NIRscan to a computer over USB and open up a web browser. The web-driven interface enables remote connectivity for deployed systems through different devices, including smartphones or tablets. Users can also access support and tools from the BeagleBoard.org open source community.



Availability

The DLP4500NIR device with the DLPC350 controller is available now. The DLP NIRscan, built by Keynote Photonics, will be available for purchase in April 2014, with a suggested retail price of US $8,499. To learn more, including information on how the DLP NIRscan platform can be integrated into a spectrometer design, please click here. The complete collection of available DLP chipsets and development platforms will also be on display at Pittcon in Chicago (booth 515), March 3-6, 2014.



About Texas Instruments DLP Products

Since 1996, award-winning DLP technology from Texas Instruments has powered the world's top display devices to deliver high resolution images rich with color, contrast, clarity and brightness for a wide range of applications, including industrial, automotive, medical and interactive displays. DLP's technology is being used in movie theaters (DLP Cinema®) and large-scale, professional venues and conference rooms, classrooms and home theaters. With DLP Pico(TM)-enabled mobile devices, users have the ability to display images from the palm of their hand. Every DLP chipset features an array of microscopic mirrors that switch on and off up to ten thousand times per second. To learn more about DLP technology, please visit www.DLP.com, or follow DLP on Twitter at www.Twitter.com/TI_DLP.



About Texas Instruments

Texas Instruments Incorporated (TI) is a global semiconductor design and manufacturing company that develops analog ICs and embedded processors. By employing the world's brightest minds, TI creates innovations that shape the future of technology. TI is helping more than 100,000 customers transform the future, today. Learn more at www.ti.com.



Trademarks

DLP and DLP Cinema are registered trademarks and NIRscan and DLP Pico are trademarks of Texas Instruments. All other trademarks are the property their respective owners.



CONTACT: Dan Lantowski Waggener Edstrom Worldwide +1-212-551-4842 dlpcore@waggeneredstrom.com; Juan Alvarez Texas Instruments DLP +1-214-567-5852 juan.alvarez@ti.com

More from Communication Systems & Equipment