Nine-Slot PXI Express Chassis is designed to be portable, rugged.
Press Release Summary: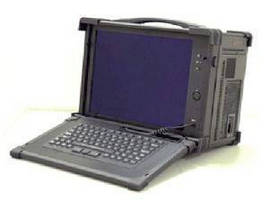 Suited for users who require testing in several locations, PMX09 consists of portable, 9-slot, 3U PXI Express Chassis with integrated display and keyboard. Product delivers data rates of up to 2 GBps per slot and 8 GBps system in rugged and portable chassis. Along with 4-lane Gen 2 PCIe backplane, features include EMX-2401, i5 host controller, carrying handle, pop-out feet for benchtop use, and shock isolation bumpers on each corner. Self-contained unit weighs <11 lb.
---
Original Press Release:

Portable Rugged 9-Slot PXI Express Chassis with Integrated Display and Keyboard



Irvine, CA – VTI Instruments is pleased to announce the introduction of its PMX09 - a portable 9-slot 3U PXI Express Chassis with an integrated display and keyboard. The PMX09 delivers unmatched data rates of up to 2 GB/s per slot and 8 GB/s system in a light-weight rugged portable chassis, ideal for users who require testing in several locations. By making use of a 4-lane Gen 2 PCIe backplane, the PMX09 is particularly beneficial when using high-speed instruments such as digitizers, oscilloscopes, and signal generators.



PMX09 Portable Rugged PXI Express Chassis The PMX09 was built from the ground up to be a portable solution. Weighing in at just under 11 lbs, it is delivered with an EMX-2401, i5 host controller, carrying handle, pop-out feet for benchtop use, and shock isolation bumpers on each corner of the unit for protection in rugged environments. The unit can be folded up quickly and is completely self-contained. The removable power supply, fan assembly and filter tray of the unit make serviceability simple to do.



"The PMX09 combines the high throughput of PXI Express with a built-in man-machine interface and a powerful processing model for a truly portable, integrated instrumentation solution" said Tom Sarfi, VP of Product Management and Support.



"With the embedded host controller and eight usable slots for instrumentation, the PMX09 becomes a perfect fit for use in mobile test applications where high-speed, and high-channel counts require in-line processing and analysis".



To learn more about the PMX09 visit our website,



Or check out the Datasheet



About VTI Instruments



VTI Instruments delivers precision modular instrumentation and systems for electronic signal distribution, acquisition, and monitoring, used in the world's most demanding test applications. The company's products and systems are used to monitor and record data that characterizes the physical integrity and performance of aircraft, engines, and other large structures, as well as automate the functional testing of complex electronic systems.



VTI is recognized as an industry leader with a reputation of providing reliable data, first time, every time. A sustained focus on innovation and technology enables VTIs customers to optimize their capital investment through product longevity, while ensuring unmatched measurement integrity and data reliability.



VTI Instruments is a unit of AMETEK, Inc., a leading global manufacturer of electronic instruments and electromechanical devices.



Contact Us:

VTI Sales 

sales@vtiinstruments.com

(949)955-1894

More from Electrical Equipment & Systems