NightRay(TM) Remote Control Spotlights Feature Buffalo Blizzard Tuff Extreme Weather Protection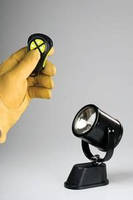 Buffalo, New York: NightRay remote controlled spotlights are the utility lineman's lifeline during nighttime winter power outages and stormy conditions. Designed specifically for the utility industry, NightRay's durable design will last for decades, even in the harshest winter environments. NightRay's powerful spotlight beam allows nighttime utility workers to safety identify problem areas during power outages.

"NightRay is the most durable remote controlled spotlight on the market. We designed this spotlight with materials that could withstand severe winter weather, including ice storms, blizzards, and extreme cold." explains John Herc, vice president of KH Industries.

NightRay Spotlights were field tested by ATCO Electric in Alberta, Canada where the temperatures range from -40° to 100°F. "We've used the NightRay Spotlight on our utility trucks for several years. Our utility crews like the durability and versatility of the spotlights." Explained Brad Hemstreet, fleet superintendent of ATCO Electric.

It's KH's exclusive design that makes NightRay Spotlights tough enough to be Buffalo Blizzard Tuff(TM)

- Open yolk design prevents snow and ice build up

- Motor assemblies, shafts, brackets, and mechanical components are made from marine quality materials

- Light housing and base are completely enclosed with weather-tight polycarbonate

- NightRay Spotlights are MADE IN THE USA

NightRay Spotlights come with a variety of lamp packages, ranging from dual-filament flood/spot bulbs, to intensely bright H3 360,000- CP spotlight only, and KH's new 750,000-cp HID Xenon model. NightRay Spotlights operate either wireless with a remote control key-fob, hardwired with a dash mounted control panel, or dual controlled (wireless and hardwired)

Contact KH Industries for more information:

Call: 716-312-0088

Visit: www.NightRay.com

Email: [email protected]

KH Industries is a state-of-the-art US manufacturer of industrial-grade portable lighting and power products for the utility, fleet, construction, aviation, chemical, petroleum, marine, and agricultural industries. KH Industries is located near Buffalo, New York.