Nickel-Based Tungsten Carbide Hardfacing Alloys withstand wear.
Press Release Summary: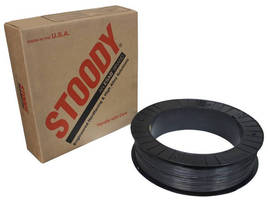 Developed for harsh industrial applications, Stoody® products include nickel-based tungsten carbide consumables. These consist of several wire formulations as well as PTA and laser cladding powder products – all designed for optimal abrasion resistance. These stick electrodes, wires, and PTA/laser cladding powders can be used to restore damaged components and overlay parts to extend serviceable life. Diameters range from 1/16–3/32 in., while PTA and laser cladding powders come in 10 lb increments.
---
Original Press Release:

Stoody® Expands Premium Nickel-Based Tungsten Carbide Product Line with Hardfacing Alloys Designed for Extreme Wear



Product line now includes consumables for SMAW, GMAW, Open Arc and PTA and Laser Cladding operations formulated to deliver more flexibility and wear performance options



Florence, SC – Stoody®, an ESAB brand, announced today that it has added new nickel-based tungsten carbide consumables to its product line, including several new wire formulations as well as new PTA and laser cladding powder families, all designed for extreme abrasion resistance.  



Stoody's nickel-based tungsten carbide consumables are developed for and utilized in some of the harshest industrial applications. Recognized for durability and performance in the face of extreme abrasion, impact and other wear conditions, these stick electrodes, wires and now PTA and laser cladding powders are used to restore damaged components and to overlay parts to extend serviceable life.



Stoody's premium nickel-based tungsten carbide consumables line includes the following recently released wires and powders:



Stoody 155FC (25% WC) – A gas shielded build up and buffer layer alloy, 155FC is ideal for thick build up deposits up to four layers. This alloy is perfect for use as an underlay for a hardfacing overlay alloy for extreme wear resistance. It has a maximum hardness of 35-45 HRC.

Stoody 160FC (48% WC) – Originally available for the GMAW process and developed in conjunction with the 155FC build-up alloy, this highly wear resistant hardfacing overlay wire is now available in an open arc formulation. It has a maximum hardness of 40-50 HRC.



Stoody 160FS (50% WC) – This entirely new wire consumable for the GMAW process incorporates spherical tungsten carbides that deliver better performance in friction applications and improved wear performance compared to standard nickel-based tungsten carbide alloys. It has a maximum hardness of 40-50 HRC.



Stoody 6040-PLC, 6040-PLM, 6040-PLS – Stoody recently introduced its first PTA and laser cladding powder consumables available in a 60% tungsten carbide, 40% nickel alloy formulation. The PLC blend incorporates standard cast and crushed eutectic tungsten carbides in the matrix. The PLM variant incorporates macrocrystalline tungsten carbides more appropriate for high power systems. The PLS formulation contains spherical tungsten carbides especially suited for laser cladding operations. It has a hardness range of 40-45 HRC.



Stoody 6030-PLC, 6030-PLM, 6030-PLS – The Stoody 6030 powders are also 60/40 blends of tungsten carbide in a nickel alloy and can be formulated with the same three choices of tungsten carbides as the original Stoody 6040 powders. The primary difference is the Stoody 6030 powders form a ductile nickel-chrome alloy matrix. It has a hardness range of 30-35 HRC.



Stoody 6051-PLC, 6051-PLM, 6051-PLS – Like the Stoody 6040 and 6030 powders, the new 6051 blends are formulated with the 60/40 tungsten carbide and nickel alloy matrix – with a notable difference. Stoody 6051 powders are chromium-free formulations with the same tungsten carbide options available to choose from – standard cast and crushed (-PLC), macrocrystalline (-PLM), or spherical (-PLS). It has a hardness range of 48-52 HRC.



Stoody's new nickel-based tungsten carbide wire products come in various diameters ranging from 1/16" to 3/32" (1.6 mm – 2.8 mm), and come spooled on 33 lb. (15 kg) wire baskets or in 50 lb. (22.7 kg) polypacks. PTA and laser cladding powders come bottled in 10-pound increments. Stoody 6040, 6030, and 6051 formulations are currently available in either a 10-pound single carton or a 40-pound standard four-pack. For more information, including detailed product data sheets, visit www.stoody.com.



Stoody's wide range of tailored hardfacing and high alloy joining solutions address wear caused by abrasion, impact, corrosion and heat. Stoody welding consumables include wire and stick electrodes, as well as powder alloy products that support the steel, power generation, petroleum oil and gas drilling, recycling, cement, pulp and paper, agricultural, metal casting, construction and other industries worldwide.



About ESAB

ESAB Welding & Cutting Products is a recognized leader in the welding and cutting industry. From time-honored processes in welding and cutting to revolutionary technologies in mechanized cutting and automation, ESAB's filler metals, equipment, and accessories bring solutions to customers around the globe. For more information, visit www.esab.com or call 1-800-ESAB-123.



FOR MORE INFORMATION, CONTACT:

Chris Daniel

270-495-3976

chris.daniel@esab.com



Loretta Degasperi

843-664-4274

ldegasperi@esab.com

More from Electrical Equipment & Systems