NFC Sensor Transponder targets IoT applications.
Press Release Summary: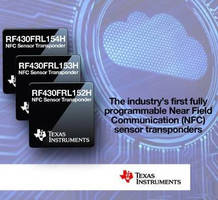 Combining ISO 15693-compliant NFC interface with programmable MCU, non-volatile FRAM, 14-bit ADC, and SPI or I2C interface, Model RF430FRL15xH is optimized for use in fully passive or semi-active modes to achieve extended battery life in consumer wearables, industrial, medical, and asset tracking applications. With fully programmable 13.56 MHz transponder, developers can design products that require analog or digital interface, datalogging capabilities, and data transfers to NFC-enabled reader.
---
Original Press Release:

Texas Instruments Launches Industry's First Highly Integrated NFC Sensor Transponder for Industrial, Medical, Wearables and Internet of Things (IoT) Applications



Industry's first fully programmable ISO 15693-compliant 13.56 MHz sensor transponder integrates ultra-low-power microcontroller with non-volatile FRAM



DALLAS, – Texas Instruments (TI) (NASDAQ: TXN) today announced the industry's first flexible high frequency 13.56 MHz sensor transponder family. The highly integrated ultra-low-power RF430FRL15xH system-on-chip (SoC) family combines an ISO 15693-compliant Near Field Communication (NFC) interface with a programmable microcontroller (MCU), non-volatile FRAM, an analog-to-digital converter (ADC) and SPI or I2C interface. The dual-interface RF430FRL15xH NFC sensor transponder is optimized for use in fully passive (battery-less) or semi-active modes to achieve extended battery life in a wide range of consumer wearables, industrial, medical and asset tracking applications.



Non-volatile FRAM combines the speed, flexibility and endurance of SRAM with the stability and reliability of flash - while providing the industry's lowest power consumption and virtually unlimited write cycles. FRAM allows developers to create products that can quickly store sensor data and enables easy configuration of the transponder and sensors to meet any application's needs.



Integrating NFC sensors into medical, industrial and asset-tracking applications

Developers can now design products that require an analog or digital interface, data-logging capabilities and data transfers to an NFC-enabled reader. The RF430FRL15xH transponder acts as a sensor node for these applications and generates an IoT-ready solution when an NFC-enabled device pushes the data to the cloud.



--  In medical or health and fitness applications, the RF430FRL15xH can be used in disposable patches that sense temperature, hydration and more. This allows patients to monitor and share vital data securely with their health providers. The device monitors and logs data in local storage (FRAM) before transferring it to an NFC-enabled tablet or smartphone.

--  The RF430FRL15xH enables the design of maintenance-free and hermetically sealed galvanic isolated sensor systems in the industrial markets. These sensors are powered out of the RF field and communicate wirelessly through NFC to collect and log data.

--  Logistics applications such as food tracking need constant temperature control, which can be monitored and logged with the RF430FRL15xH transponder. It allows the design of highly integrated, size-optimized and easy-to-use data loggers with several sensors that connect to NFC-enabled devices and readers throughout the distribution channel.



Features and benefits of TI's RF430FRL15xH NFC sensor transponders



--  Supports wireless communication via the ISO/IEC 15693, ISO/IEC 18000-3 compliant RFID interface.

--  Optimized for 1.5 V single-cell-battery-powered designs or battery-less designs that harvest energy from the RF field generated from an NFC reader at the same reading distance. Intelligent power management includes a battery switch to ensure long battery life.

--  14-bit sigma-delta ADC with ultra-low input current, low noise and ultra-low offset enables developers to connect up to three additional external sensors in addition to the integrated temperature sensor.

--  SPI or I2C interface can support digital sensors or connect the device to a host system.

--  Application code embedded in ROM manages RF communication and sensor readings to provide the ultimate flexibility in configuring the device. Developers can configure sampling rates, measurement thresholds and alarms.

--  Universal non-volatile memory (FRAM) allows data storage as well as extension and adjustment of application code.

--  Integrates a 16-bit ultra-low-power programmable MSP430™ CPU core that is supported by a robust ecosystem of development tools.

--  Fully integrated into TI's Code Composer Studio™ (CCS) and IAR's Embedded Workbench® integrated development environments (IDEs).



Begin immediate evaluation of RF430FRL15xH sensor transponders

Developers can start evaluating this new family of NFC sensor transponders with the new RF430FRL152HEVM evaluation module and an upcoming educational webinar. The evaluation board can be powered with a battery, USB or by harvesting RF energy from a nearby NFC-enabled reader or smartphone. For further expansion, the evaluation board is compatible with a number of BoosterPacks from TI's low-cost LaunchPad rapid prototyping ecosystem, such as the Sensor Hub BoosterPack offering connectivity for additional sensors. The RF430FRL152HEVM kit is available from the TI Store for $19.90.



Pricing and availability

The RF430FRL152H NFC sensor transponders are immediately available for purchase from the TI Store in small quantities or authorized distributors for $2.50 in 1 Ku volumes. Additional device derivatives include the RF430FRL153H (without SPI/I2C) and RF430FRL154H (without sigma-delta ADC).



Learn more about TI's RFID and NFC products:



--  Discover the benefits of TI's near field communication solutions.

--  Learn about the new sensor transponder products.

--  Ask questions and help solve problems in the NFC/RFID forum on the TI E2E™ Community.

--  Launch Your Design with TI MCUs: www.ti.com/launchyourdesign

--  Follow TI MCUs on Facebook: www.ti.com/mcufb



Innovation is at the core of TI MCUs

Beginning with the foundation of leading process technology and adding unique system architecture, intellectual property and real-world system expertise, TI continues its 20+ years of MCU innovation with low-power and performance MCUs. With unique products for ultra-low power, low-power performance and security communications, to real-time control, control and automation, and safety, designers can accelerate time to market with TI's ecosystem of tools, software, wireless connectivity solutions, extensive Design Network offerings and technical support.



About Texas Instruments

Texas Instruments Incorporated (TI) is a global semiconductor design and manufacturing company that develops analog ICs and embedded processors. By employing the world's brightest minds, TI creates innovations that shape the future of technology. TI is helping more than 100,000 customers transform the future, today. Learn more at www.ti.com.



Trademarks

MSP430, Code Composer Studio and TI E2E are trademarks of Texas Instruments Incorporated. All registered trademarks and other trademarks belong to their respective owners.



CONTACT:

Randi Williams

Texas Instruments

(214) 567-4640

rwilliams@ti.com

More from Electronic Components & Devices