NFC Controller features active load modulation.
Press Release Summary: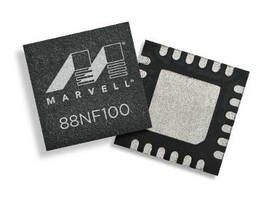 With Active Load Modulation, Model 88NF100 supports smallest antenna sizes critical to mobile, IoT, wearable, and automotive applications. Device supports all data rates up to 848 kbps and operates with low polling current of 60 µA, making it suited for power-critical applications. Two-pin interface supports maximum distance of 2 m between chip and antenna. Integrating with Marvell's Wi-Fi®, Bluetooth® and ZigBee® solutions, 88NF100 is compliant with NCI Technical Specification v1.1.
---
Original Press Release:

Marvell's NFC Controller Enables the Smallest Antennas for Mobile, IoT, Wearable and Automotive Applications



Marvell adds low power, NCI 1.1 compliant 88NF100 NFC controller with extended range capability to award-winning connectivity product line



SANTA CLARA, Calif. and LAS VEGAS, – Marvell (NASDAQ:MRVL), a world leader in storage, cloud infrastructure, Internet of Things (IoT), connectivity and multimedia semiconductor solutions, today announced its full-featured, Near Field Communication (NFC) 88NF100 Controller with Active Load Modulation (ALM) to support the smallest antenna sizes critical to mobile, IoT, wearable and automotive applications. Adhering to the NFC Controller Interface (NCI) Technical Specification version 1.1, the 88NF100 provides an extended operating range and is extremely energy-efficient to enable extended battery life for power critical applications.



"As consumers demand smarter and more connected devices every year, manufacturers are increasingly faced with the challenge of incorporating advanced technology features into elegant and small form factor designs. Marvell's 88NF100 controller with ALM technology is designed to enable OEMs to incorporate advanced NFC technology into compact and energy-efficient designs with ultra-small antennas," said Kevin Tang, Sr. Director of Marketing, Wireless Connectivity Business Unit at Marvell. "Marvell's wireless technology enables the ultimate performance, battery life and operating range, making the 88NF100 ideal for NFC applications in Mobile payments, point of sale (POS) systems, Smart home connected devices, Smart watches and vehicles."



The 88NF100's ALM technology supports the smallest antenna sizes to enable OEMs to implement NFC capabilities into small form factor designs, making it ideal for mobile, IoT, wearable and automotive applications. The controller has extremely low power operation in polling mode to provide increased battery life for power critical applications and 3 Single Wire Protocol (SWP) interfaces to secure element (eSE) devices, ideal for secure payments. The patented two-pin antenna interface supports a maximum distance of two meters between the chip and antenna, supporting devices where the antenna must be located far away from the chip, such as with automotive and printer applications, in addition to designs with tight space constraints, including smartphones and wearable devices. Seamlessly integrating with Marvell's Wi-Fi®, Bluetooth® and ZigBee® solutions, the 88NF100 is compliant with the NCI Technical Specification version 1.1 to leverage existing middleware and applications and supports GSMA, ISO and EMVCo industry standards.



Key features of the Marvell 88NF100 include:



--  Low-power consumption - The 88NF100 supports all data rates up to 848 kbps and operates with a low polling current of 60uA, making it ideally suited for power critical applications.

--  ALM integration - The controller's ALM technology supports smaller antennas; and allows placement of the antenna up to two meters from the 88NF100.

--  Advanced digital processing for Reader mode - The 88NF100's signal processing has been optimized for better performance, enabling better reading distance in Peer-to-Peer (P2P) modes.

--  Advanced low battery operating mode - The controller can operate on a very low current from the battery, ensuring that mobile applications deliver the same performance level in Card Emulation (CE) mode when the phone is powered on or off.

--  Compact package with low pin count - The 88NF100 has embedded Wafer Level Ball Grid Array (eWLB) 2.5x2.5 and a compact 4x4 quad-flat no-leads (QFN) package.

--  Local Interconnect Network (LIN) interface - The LIN interface is designed to enable developers to build low cost NFC LIN nodes for the automotive industry and natively support the automotive LIN communication protocol.



To learn more, please visit http://www.marvell.com/wireless/88NF100/.



Marvell will be demonstrating its NFC controller solution at CES 2016 in Marvell's suite, Level 3, Murano No. 3304, at The Venetian. CES is being held in Las Vegas at the Las Vegas Convention and World Trade Center and the Venetian Hotel on Jan. 6-9, 2016.



About Marvell

Marvell (NASDAQ: MRVL) is a global leader in providing complete silicon solutions and Kinoma® software enabling the "Smart Life and Smart Lifestyle." From storage to cloud infrastructure, Internet of Things (IoT), connectivity and multimedia, Marvell's diverse product portfolio aligns complete platform designs with industry-leading performance, security, reliability and efficiency. At the core of the world's most powerful consumer, network and enterprise systems, Marvell empowers partners and their customers to always stand at the forefront of innovation, performance and mass appeal. By providing people around the world with mobility and ease of access to services adding value to their social, personal and work lives, Marvell is committed to enhancing the human experience.



As used in this release, the term "Marvell" refers to Marvell Technology Group Ltd. and its subsidiaries. For more information, please visit www.Marvell.com.



Marvell, the M logo and Kinoma are registered trademarks of Marvell and/or its affiliates. Other names and brands may be claimed as the property of others.



For Further Information Contact: 

Marvell Media Relations

Sue Kim 

Director, Corporate Communications & PR 

408.222.1942

suekim@marvell.com

More from Software