Nextmove Technologies Deploys BridgeWave Fiber Capacity, AES-Encrypted Wireless Systems for Department of Defense Contractor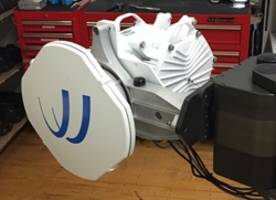 Industry leader in antenna auto-alignment products couples BridgeWave Flex4G-10000 systems with its auto-alignment tool and remote management software to provide complete deployment solution
SAN DIEGO (PRWEB) MAY 22, 2018 - BridgeWave Communications, a market leader in next-generation wireless backhaul systems, today announced that Nextmove Technologies, an industry leader in antenna auto-alignment solutions, has deployed BridgeWave fiber-capacity, AES-encrypted Flex4G-10000 systems along with its LinkAlign E-band positioner and remote management software, for a Department of Defense (DoD) contractor. The DoD contractor, who is using the BridgeWave systems to achieve capacities up to 20Gbps, requested a complete solution to achieve highest data throughput and security, mitigate any future antenna misalignment issues, and enable remote management to optimize link performance.
"The BridgeWave systems not only deliver the twice-fiber capacity required by the customer, but AES encryption as well – a mandate for these types of deployments," said Ben Brown, vice president, business development, Nextmove Technologies. "We installed these highly secure links with our E-band positioner and management software, and now the contractor easily can address any misalignment issues caused by thermal expansion or other changes in the environment, and manage the links using our remote management software. Together with BridgeWave, we have supplied this customer with the system performance, security, and management capabilities their applications require."
According to Brown, BridgeWave AES encryption also was a key factor in the selection of BridgeWave systems by this customer. "Defense contractors demand wireless equipment with LPI – low probability of intercept, and LPD – low probability of detection, and the BridgeWave Flex4G-10000 systems provide that confidence. The systems are easy to install, and BridgeWave support is great. We are experiencing global demand for capacity not just from the government sector, but commercially as well, and we are including BridgeWave in many more projects because their systems offer exactly what customers need."
Nextmove provides products that work with one-, two-, and three-foot 70/80GHz antennas enabling E-band radios, like the BridgeWave Flex4G-10000, to operate at greater distances with the highest reliability by actively maintaining the radio link quality of service and correcting antenna alignment errors caused by thermal expansion at tower installation sites.
"We are doubly pleased that the Flex4G-10000 not only meets the capacity and security requirements of this particular DoD contractor, but that it is now part of a complete deployment solution Nextmove offers its customers," said Pamela Valentine, vice president of marketing, BridgeWave Communications. "Their confidence in our technology, products, and support is certainly an honor, and we look forward to working with Nextmove on future projects."
BridgeWave backhaul systems increase backhaul network capacity without the hassles and costs of new or leased fiber. In addition to our flagship system, the Flex4G-10000, BridgeWave offers the Flex4G-LITE, upgradeable from 1Gbps to 3Gbps, and the entry-level Flex4G-1000, delivering up to 1Gbps.
About Nextmove Technologies 
Nextmove Technologies is located in Milford, NH and is an industry leader providing high tech auto antenna alignment and link maintenance products to the communications market. Nextmove antenna positioners can auto align and maintain directional antennas with narrow beam widths for both Satellite and Microwave Line of Sight applications. To find out more about Nextmove Technologies visit http://www.nextmovetech.com
About BridgeWave 
BridgeWave Communications provides high-capacity microwave and millimeter wave backhaul and wireless connectivity solutions to operators, carriers, service providers, governments, and private enterprises. With over 35,000 systems deployed in more than 60 countries, the company's innovative solutions have been entrusted by customers to enable highly reliable and secure, high-capacity, gigabit connectivity while reducing operating costs relative to fiber. Founded in 1999, BridgeWave is headquartered in San Diego, California. For more information, visit https://bridgewave.com/.
Contact Information
Pamela Valentine
BridgeWave Communications
http://www.bridgewave.com
+1 408-445-2595
More from Electrical Equipment & Systems