Refrigeration / AC Compressors
Next Generation Power and TOMCAR Join Forces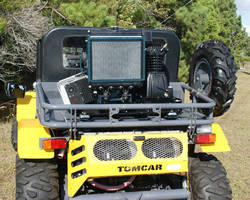 A leader in ultra-compact power solutions, Next Generation Power, has partnered with TOMCAR® to offer heavy-duty, safe, off-road service vehicles equipped with state-of-the-art Next Gen diesel generators, compressors or combination generator welder compressors. Next Gen president Gino Kennedy made the announcement.

Perfect for forestry, park services, remote construction projects, fire departments and numerous other demanding applications, the dependable TOMCAR gets the job done. Engineered for safety, performance and reliability, it performs equally well in the freezing cold as it does in desert heat.

"Many people who employ their TOMCARs as service vehicles also require auxiliary power," said Kennedy. "We simply outfit the vehicles to customers' specifications with our trusted generators and combination units. Then, they can fill tires, weld or power lights, tools and other equipment when they're out in hard-to-reach areas, repairing construction machinery or rescuing stranded outdoor enthusiasts."

Next Generation Power and TOMCAR will be exhibiting together at trade shows around the country. For a list of dates, times and locations, please visit www.nextgenerationpower.com.

For more information about TOMCAR, visit www.tomcar.com.

Contact:
Next Generation Power, 1732 St. Johns Bluff Rd., Jacksonville, FL 32246. 888-463-9879; Fax: 904-642-8175. ngpowersales@bellsouth.net; www.nextgenerationpower.com.

More from Construction Equipment and Supplies