Newtex Introduces TSO Approved Firecape™ Fire Containment Covers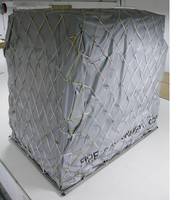 Atlantic City, New Jersey – March 10, 2017 – Newtex announced today at the start of the 2016 FAA Aircraft Fire and Cabin Safety Research Conference that they have received FAA TSO-C203 approval for their FireCape™ brand of Fire Containment Covers.
The TSO-C203 approval requires a fire containment cover (FCC) to meet a demanding list of material requirements for flammability, puncture resistance, and resistance to UV, humidity, and fungus. The approval also requires a full scale box burn test in which the FCC must contain a Class A fire for 6 hours without breaching or punch-through of flames and without permitting external thermocouples to exceed 400°F (204°C).
Newtex is one of only two companies that offers a TSO approval for their FCC, and the only company in the world that is a vertically integrated textile company and expert in fabricated thermal management and fire protection solutions.
The company has been manufacturing high temperature materials since 1978, and for the past decade Newtex has been involved in the development and testing of fire containment solutions designed specifically for cargo pallets and Lithium-Ion battery fire containment. Though testing with Lithium-Ion batteries is not a requirement for TSO approval, Newtex has tested the FireCape™ with pallets of Lithium-Ion battery due to the ubiquitous presence of batteries in today's cargo shipments.
The FireCape™ is designed, manufactured, and tested in the United States, and it is now available in three standard sizes and custom sizes. It is made with Newtex's proprietary Z-Block fire resistant materials which have been extensively tested by UL, the FAA, and other independent labs. A full listing of the capabilities and testing can be found on www.Newtex.com.
The FireCape™ is available immediately from Newtex, as well as Newtex's European partner Trip & Co, a leading manufacturer and distributor of netting and cargo products.