Position Sensors / Detectors / Transducers
NewTek Sensor Introduces M-375 Series Miniature AC LVDTs with Corrosion-Resistant Nickel-Iron Alloy Housing
Press Release Summary: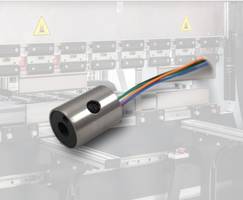 M-375 Series Miniature AC LVDTs are offered in measurement ranging from ± 0.025 to ± 1 in. with linearity of less than ± 0.25% over the full range. Units can be operated in -55°C to +135°C temperature range and the vented design equalizes pressure inside and outside the LVDT for an improved endurance to high pressure and temperature. The 3/8 in. diameter LVDTs are suitable for use in robotics, automation inspection equipment, plastic injection molding and dimensional gaging.
---
Original Press Release:
Miniature LVDT Position Sensors from NewTek Sensor Solutions Operate in Applications with Harsh and High-Pressure Environments with Limited Space
Pennsauken, NJ, July 10, 2018… NewTek Sensor Solutions introduces a miniaturized series of AC-operated position sensors with a lightweight and compact 3/8" diameter size that provides highly reliable linear position feedback in rugged industrial applications with tight space and weight restrictions. 
Resistant to harsh and high-pressure environments, the NewTek M-375 Series Miniature AC LVDTs provide high response dynamic measurement for machine operations such as robotics, automatic inspection equipment, plastic injection molding, hydraulic cylinder and valve positioning, downhole drilling, and dimensional gaging. In addition to performing in the aerospace, oil & gas and manufacturing industries, these compact LVDTs serve as components within medical devices with tight space restrictions and high accuracy requirements. 
With a corrosion-resistant, nickel-iron alloy housing and core, the environmentally-robust sensors operate in temperature extremes of -65°F to +275°F (-55°C to +135°C), with optionally extended ranges of -65°F to 400°F (55°C to 204°C ). A vented design exposing the interior coil assembly equalizes pressure inside and outside the LVDT, enabling greater endurance to high pressure and temperature as well as shock and vibration.
The M-375 Series Miniature AC LVDTs are available in measurement ranges from ± 0.025 to ± 1 inch and provide linearity of < ± 0.25% over the full range with feature excellent repeatability of <0.01% of full range. Cost-effective replacements to magnetostrictive sensors, these miniature position sensors are interchangeable with most manufacturer units and can serve as drop-in replacements. Sensors operate with differential input LVDT signal conditioning electronics provided by NewTek Sensors and as part of sensor control systems that monitor and provide alerts on equipment operating conditions.
NewTek Sensor Solutions guarantees on-time delivery of units according to customer specifications. The company accepts small- to large-sized orders and manufactures prototypes to spec. All products are USA-manufactured. For more information, refer to the website at http://www.newteksensors.com/products/m-375-series/ or contact Mike Marciante at 856-406-6877.
About NewTek Sensor Solutions
NewTek Sensor Solutions designs and manufactures standard, custom, and harsh environment LVDT-based linear position sensors for a variety of industries including power generation, factory automation, oil and gas exploration, aerospace/mil, chemical processing, subsea oil drilling and automotive testing. Incorporated in 2016, NewTek Sensors offers more than 200 years of cumulative LVDT design and manufacturing experience by its key staff in serving an OEM and end-user customer base. The company differentiates itself in the market by delivering high-quality, made-in-the-USA LVDTs at cost-effective price points in short timelines.
Media Contact: Jean Carl, fjcarl@comcast.net, 484-467-8675
Engineering Contact: Tutul Rahman, 856-406-6877
Sales Contact: Mike Marciante, 856-406-6877
More from Electrical Equipment & Systems