Position Sensors / Detectors / Transducers
NewTek Presents M-375 LVDT Linear Position Sensors for High Response Dynamic Measurement
Press Release Summary: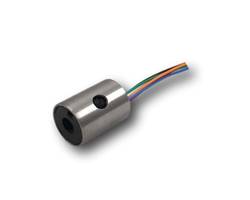 Available in ranges from ± 0.63 mm to ±25 mm and operate at linearity of ±0.15% of full range
Operated in -65°F to +400°F temperature range at pressures of 30,000 psi
Features vented holes that equalize pressure inside and outside the LVDT sensor
---
Original Press Release:
NewTek Vented Miniature Linear Position Sensors Operate Reliably in High Temp, High Pressure Environments of Hydraulic & Material Testing Systems
Pennsauken, NJ, February 21, 2019… The operating environments of many hydraulic and materials testing systems require linear position sensors that operate reliably under continuous high pressures and temperatures while fitting into restrictive spaces. NewTek Sensor Solutions offers vented versions of its M-375 Miniature LVDT Linear Position Sensors specially designed to provide the highest level of reliability and accuracy under a combination of high pressure, extreme temperatures, shock and vibration conditions.
Offering a lightweight, low mass core and a compact 3/8" diameter, these miniature AC-operated position sensors are ideal for high response dynamic measurement required in hydraulic and material testing systems where space is at a premium. With vented holes in the housing, the M-375 position sensors equalize pressure inside and outside the LVDT linear position sensor to operate reliably in temperature extremes of -65°F to +400°F (-54°C to +204°C) and operating pressures of 30,000 psi. As vented holes expose the coils inside the sensor, any fluid to which the LVDT is exposed must be electrically non-conductive and chemically benign, which is a very common trait among hydraulic fluids and oils.
The NewTek M-375 Series transducers are available in ranges from ± 0.025 inch (± 0.63 mm) to ± 1.0 inch (±25 mm) and operate at a linearity of ±0.15% of Full Range Typical (0.25% max). For more information, visit https://www.newteksensors.com/products/m-375-series/ or contact Mike Marciante at 856-406-6877.
About NewTek Sensor Solutions
NewTek Sensor Solutions designs and manufactures standard, custom, and harsh environment LVDT-based linear position sensors for a variety of industries including power generation, factory automation, oil and gas exploration, aerospace/mil, chemical processing, subsea oil drilling and automotive testing. Incorporated in 2016, NewTek Sensors offers more than 200 years of cumulative LVDT design and manufacturing experience by its key staff in serving an OEM and end-user customer base. The company differentiates itself in the market by delivering high-quality, made-in-the-USA LVDTs at cost-effective price points in short timelines. www.newteksensors.com.
Engineering Contact: Tutul Rahman, 856-406-6877
Sales Contact: Mike Marciante, 856-406-6877
More from Agricultural & Farming Products