Position Sensors / Detectors / Transducers
NewTek Customizes The Mounting Features of Its LVDT Linear Position Sensors and LVRTs to Fit into Existing Footprint of Steam Turbines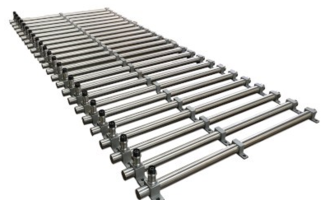 Pennsauken, NJ, October 17, 2019… NewTek customizes its LVDT Linear Position Sensors and LVRT Inductive Half Bridge Sensors with mounting features such as blocks or flanges to fit into the existing footprint of steam turbines, eliminating the need for turbine operators to update or replace costly legacy equipment including mounting equipment, brackets, and mechanical indicators. LVDTs and 3-wire LVRTs are installed in various locations on the steam turbine to track turbine vibration for health monitoring and maintenance prediction and provide feedback on the open/close status of steam inlets and governor valves.
As the LVDTs and LVRTs are often exposed to high vibrations on the steam turbines, NewTek welds the stainless-steel blocks and flanges to the sensors so footing remains rugged. In addition, some linear position sensors are customized with threated connectors for long-term performance in the high-vibration environments of the turbine. Other mounting blocks or methods might become loose over time and compromise measurement quality.
AC-operated LVDTs and LVRTs are the only technologies that can survive steam exposure with high temperatures. For example, NewTek's High-Temperature HATR-750 Series withstand the extreme temperatures of turbines up to 400°F (204°C) with excellent linearity, high sensitivity and infinite resolution. The linear position sensors are also very resilient to harsh vibration typically association with turbine operation. NewTek signal conditioning provides the digital output from the AC-operated sensors in a variety of outputs to meet various protocols including Modbus, CAN Bus, RS-485 and more.
NewTek also customizes mounting feet for sensors used in subsea applications for structural monitoring. For more information, refer to the NewTek website https://www.newteksensors.com/custom-lvdts/ or contact Mike Marciante at 856-406-6877.
About NewTek Sensor Solutions
NewTek Sensor Solutions designs and manufactures standard, custom, and harsh environment LVDT-based linear position sensors for a variety of industries including power generation, factory automation, oil and gas exploration, aerospace/mil, chemical processing, subsea oil drilling and automotive testing. Incorporated in 2016, NewTek Sensors offers more than 200 years of cumulative LVDT design and manufacturing experience by its key staff in serving an OEM and end-user customer base. The company differentiates itself in the market by delivering high quality, Made-in-the-USA LVDTs at cost-effective price points in short timelines.
Media Contact:
Jean Carl
484-467-8675
Engineering Contact:
Tutul Rahman
856-406-6877
More from Sensors, Monitors & Transducers