Newly Designed Fence and Wall Systems Provide Acoustical Solutions with Durable, Near Zero-Maintenance and Easy Configuration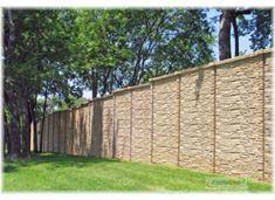 R & M Equipment Co. in Royersford, Pa announces a new line of noise control walls from ArtUSA Noise Control Products Inc. The ArtCrete Modular Pre-Cast Concrete Fencing system is a light weight, pre-engineered wall system that uses interlocking panels and posts made of high-performance fiber and steel reinforced pre-colored concrete. Uses include screen walls, perimeter fences, buffers and sound barriers.

Art USA Noise Control Product Wall Systems provide total solutions for specific sound barrier wall and decorative fencing requirements. Features highly durable material which will not erode, corrode, rust or rot for a projected life of decades. Near zero maintenance- requires no painting. Walls can be easily configured to fit the lay of the land.

Vinyl sound barrier wall systems are designed for heavy traffic sound absorption and high noise areas. The STC-32 Heavy Wall meets or exceeds AASHTO guidelines with wind load sustaining and decibel reducing criteria. The STC-25 Medium Wall, while lighter, still provides exceptional sound reduction performance.

The non-corrosive FRP material is graffiti, moisture, freeze resistant and class 1 fire retardant. It will maintain its aesthetic beauty for more than 50 years.

Applications for developers, power generation stations, highways, water treatment plants, factories, clubs & entertainment complexes.

About Us:
R&M Equipment Company started out as a Roots blower distributor. Through the years we have continued to add new product lines to better serve our customers. We expanded to include a line of products for the mobile trucking business. This is backed by our distributorship for Muncie Power Products. We also saw the need to offer noise reduction capabilities for both our equipment and other equipment found in the industrial market. For this need we are able to offer noise reduction solutions from ArtUSA. Combining all of these products with the experience of the employees at R&M, we are able to provide solutions our customers can depend on.

We have Sales offices in Pa, North Jersey and New England. For more information, please contact one of our sales associates 610-495-9700, info@ramequipment.com or visit our website www.ramequipment.com for additional information.

More from Software