Newark Wire Cloth at Interphex 2015 - Booth 3370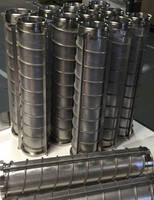 Newark Wire Cloth Company, Clifton, NJ will exhibit a complete line of products for the pharmaceutical industry at Interphex 2015. The company will display a diverse range of pharmaceutical processing components including test sieves, granulator screens, multipurpose baskets, centrifuge screens, de-duster screens, fluid bed dryer screens, fabricated wire cloth parts, and it's SaniClean Strainer product line. 



SaniClean Strainers are 3A Approved.  Ideal for use in pharmaceutical, food, dairy, and beverage applications – perfect for any critical cleaning processing application.  SaniClean Strainers are engineered to satisfy today's demanding processing requirements.



For more information visit Newark Wire Cloth Company – www.newarkwire.com;



SaniClean Strainers – www.sanicleanstrainers.com



Newark Wire Cloth's staff will be at Interphex 2015, Booth 3370,

April 21 - 23, 2015. 




More from Architectural & Civil Engineering Products