New Zip Stainless™ Thin Cut-Off Wheels Come with Improved Bond Matrix
Press Release Summary: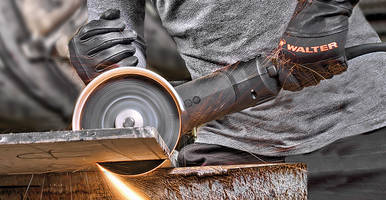 New Zip Stainless™ Thin Cut-Off Wheels from Walter Surface Technologies are free from iron, sulfur and chlorine. Units are offered in Walter's protective packaging that preserves physical properties. The wheels are used on stainless steel and nickel alloyed steel and deliver 40% more cuts than its previous model. Units come with metal hub cladding for improved strength, control and safety and the new bond matrix increases life of the cutting disc.
---
Original Press Release:
Walter Surface Technologies Unveils its New Zip Stainless™ Thin Cut-Off Wheel Boasting a Longer Lifespan than Other Competing Discs on the Market
Windsor CT, April 24th , 2018 – Walter Surface Technologies, the global leader in surface treatment technologies, announced the launch its new Zip Stainless™ thin cut-off wheel, offering 40% more cuts and better performance than its predecessor.
The improved Zip Stainless™ is free of iron, sulfur, and chlorine, and is guaranteed not to contaminate stainless steel or other nickel alloyed steels. "This is a game-changer for the stainless steel industry," says Marc Brunet-Gagné, Product Manager, Bonded Abrasives, at Walter Surface Technologies. "Walter is considered the benchmark for thin cut-off wheels and the new Zip Stainless™ is no exception. The increased cuts per wheel save our customers' time, as well as operational and labor costs" concludes Brunet-Gagné.
The Zip Stainless™ comes in Walter's exclusive protective packaging designed to preserve the wheel's physical properties until ready for use so that performance and safety are kept to the highest standards possible.
Designed with a new and improved bond matrix which significantly improves the life of the cutting disc. The Zip Stainless™ offers cool, free cuts and the best overall performance on stainless steel and nickel alloyed steel. Type 27 allows more clearance for flush cutting and its metal hub cladding delivers extra strength, control, and safety when operators need it most.
The Zip Stainless™ available now, visit walter.com for more details.
About Walter Surface Technologies
Walter Surface Technologies provides innovative solutions for the global metal working industry. From high performance abrasives, power tools and tooling to industrial parts washing systems, cleaners, degreasers and lubricants Walter focuses on helping its customers work better. Founded in 1952, the company is established in 7 countries throughout North America, South America and Europe. International headquarters is in Montreal and U.S. headquarters is located in Windsor, Connecticut. Key certification and awards include ISO 9001: 2008, Wall Street Journal Award; Deutscher Material Preiz; American Eagle Award; CleanTech Cleaning Technology Award.
Press Contact
Walter Surface Technologies
Jonathan Rinaldi
Marketing Communication Specialist
jrinaldi@walter.com
More from Electrical Equipment & Systems