New Zeolite Helps to Balance PH Level
Press Release Summary: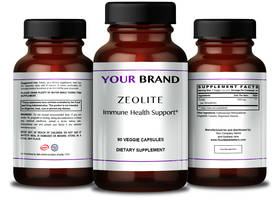 Supports immune system health by helping the body to remove impurities and toxins naturally
Provides immense cleansing support by entering the bloodstream
Contribute to healthier looking skin
---
Original Press Release:
Tru Body Wellness Makes its Signature Zeolite Product Available Now!
Tru Body Wellness is pleased to announce that their highly effective and safe micronized Zeolite product is available for private labeling. Zeolite works to support immune system health by helping the body remove impurities and toxins naturally.*
Don Wiencek, President, commented saying, "Impurities and toxins in the body can cause a variety of health issues.  Zeolite is a unique mineral that may safely remove these with many potential health benefits."
Tru Body Wellness's micronized Zeolite:
May help balance PH levels.*
Supports digestive and immune system health.*
Is negatively charged with a cage-like structure that may trap toxins and support their removal from the body through normal waste elimination*.
May contribute to healthier looking skin.*
Has an average particle size of 2 micron (2µ), allowing the Zeolite particles to effortlessly enter the bloodstream, and provide immense cleansing support when Zeolite is taken with plenty of water.*
100% Natural.
Customers can add this unique and effective product to their brand line up by taking advantage of our private label and low minimum order offering at the low quantity of only 100 bottles. To learn more, please email us at Sales@TruBodyWellness.com or call (877) 419-4004.
About Tru Body Wellness
Tru Body Wellness specializes in private labeling dietary supplements. Minimum orders of standard products start at only 100 bottles and includes one free label design per order. Additionally, custom formulas can be provided starting at an industry low of 500 bottles for capsules, 1,500 bottles for liquids, and 2,000 bottles for tablets and powders. All products are made in FDA inspected and cGMP certified facilities in the US.
Please visit TruBodyWellness.com for more information.
*These statements have not been evaluated by the Food and Drug Administration. This product is not intended to diagnose, treat, cure, or prevent any disease.
Related