New Zenon 8.10 Provides Flexibility in Batch-based Production
Press Release Summary: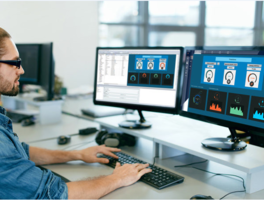 Zenon 8.10 offers developers up to 97% time savings when bulk processing
Enables spontaneous and triggered archives to benefit from the full power of multi-core systems
Analyzer 3.30 provides fast and secure metadata transfer
---
Original Press Release:
COPA-DATA Introduces Zenon 8.10 and Zenon Analyzer 3.30
July 1, 2019 – COPA-DATA offers an integrated, comprehensive software platform for smart automation solutions in the manufacturing and energy sectors. The newest version zenon 8.10 presents major updates that focus on optimizing project performance, user-friendliness, and connectivity.
Highlights from zenon 8.10 include:
Improved performance
More user-friendly operation in Editor and Runtime
More flexibility in batch-based production
Support of Shared Properties and the Combined Element in the Web Engine
Along with the software, zenon's integrated reporting module Analyzer 3.30 offers enhancements such as:
Improved security and easier exchange of data thanks to the Extended Backup module
Gain more information with Property Help
Faster and more secure metadata transfer
Custom themes for individualized reports
Continuous performance improvement
In preparation for the release of zenon 8.10, we dealt intensively with current requirements from customer projects. Updates in the core components, improved algorithms, and the targeted application of caching functions have resulted in noticeable performance improvements in the runtime. In addition, the startup time for the zenon Editor is reduced dramatically. In terms of engineering, zenon 8.10 offers developers up to 97% time savings when bulk processing, e.g. lists of variables. This enhancement is based on grouping or sorting variable parameters more efficiently. Version 8.10 also enables spontaneous and triggered archives to benefit from the full power of multi-core systems. This allows zenon to process up to 150,000 value changes per second. Previously the rate was only 400 value changes per second.
Improved user-friendliness
In the Extended Trend Module (ETM) variables can now be added to the display via drag and drop. With zenon 8.10, users can now adjust the curve display in zenon Runtime. The color of an axis can be transferred from the curve color (as an option). This prevents visual confusion when dealing with axes and curves, and provides a better overview. The option of reading values directly off the curve offers the same positive effect. The Industrial Maintenance Manager (IMM) has also been optimized as part of the new version. New filter options, such as a time filter or a pop-up maintenance screen, improve the look and feel of the software platform.
Batch-oriented production is even more flexible
For a more flexible configuration, Batch Control in zenon 8.10 offers users more unit classes. Users can now create generic recipes and decide at the start of the process which equipment to use, instead of preparing a separate recipe for each unit. In addition, recipes can be easily executed on other systems. . This new approach removes the reliance on specific units, and benefits companies through greater flexibility in batch-oriented production.
Enhancements to the Web Engine
Through our process of continuous improvement, the entire core component of the Web Engine was upgraded. The move to the .NET core framework provides a strong, platform-independent foundation for the future, and supports the trend toward even greater connectivity. In addition, the performance has been improved to accommodate increasing demands on compute resources. Depending on the number of elements and screens, the Web Engine in zenon 8.10 is three to four times faster than the previous version. Since the Web Engine now also supports the combined element, pop-up windows are (as an option) a thing of the past. Users further benefit from a wide range of new graphical options. Alongside the combined element, the Web Engine also supports Released Properties. With zenon 8.10, users can also evaluate limit violations and run functions supported by the Web Engine such as configuring set values or screen switching.
Improved data backup
The Extended Backup module has been an integral part of zenon Analyzer for some time now, but the extensive updates in version 3.30 now make it a game changer. The module now supports metadata, as well as data from other sources, e.g. reports or third-party databases. This offers users added security through consistent data backup. The new version also streamlines the data transfer process to zenon Analyzer installations on other computers.
Additional information directly in zenon Analyzer
Property Help in the new version now works the same as it does in zenon. Users benefit from additional information available directly in the zenon Analyzer Management Studio (ZAMS). In addition to the default value, these include, for example, the minimum and maximum value of the property. If users have any further questions, they can go directly to online help, where they can access all of the documentation for zenon and zenon Analyzer.
Metadata Synchronizer
New to zenon Analyzer 3.30, Metadata Synchronizer is a new, stand-alone module with additional features. It is an alternative to the Analyzer Export Wizard. In addition to improved security, Metadata Synchronizer provides up to 50 times faster processing than the Analyzer Export Wizard. The Metadata Synchronizer is fully integrated with zenon Editor, and enables metadata transfers from zenon directly to the Analyzer Server database. To avoid transmission conflicts and minimize the risk of error, no automatic parameter check takes place in the background. The metadata transfer to the Analyzer Server works on a triggered basis. This feature is compatible with zenon version 8.10 and higher.
Customized Reports
Flexibility and user-friendliness, two characteristics of the zenon Software Platform, are the pillars on which the Custom Themes module is built. Available for the first time in zenon Analyzer in version 3.30, this functionality offers users a wide range of options for preparing customized reports. It makes it easy to keep an overview, as only data relevant for specific use cases is taken into account.
For future inquiries, please contact info.us@copadata.com or +1.609.385.0830.
Media contact:
Olivia Wang
Marketing Manager
COPA-DATA USA Corp.
609-385-4284
Olivia.wang@copadata.com
www.copadata.com
More from Transportation Industry Products