New ZEISS ZEN Connect Software Comes with Automatic Overlay and Relocation Algorithm
Press Release Summary: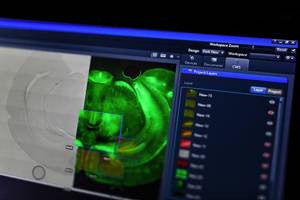 ZEISS ZEN Connect Software is designed for use in structural analysis, examination of cellular processes and localization of cells. The software is offered with intuitive data management, simplified sample workflows and unlimited navigation. ZEISS ZEN enables user to focus on data in large field of view images with high resolutions and is available for optical, confocal, X-ray and ion microscopes. Software features project based data storage and simplified image labeling for improved control over data structure.
---
Original Press Release:
ZEISS Presents New Enhanced Software Technology
ZEISS ZEN Connect provides information from all dimensions of a sample
JENA/Germany

ZEISS introduces new software modules with enhanced imaging technology: ZEISS ZEN Connect is especially useful for, but not limited to, structural analysis, examination of cellular processes, localization of cells, and much more. The proven ZEISS ZEN software combines numerous functions for day-to-day work with microscopes and stands for scientific success. The ZEISS ZEN Connect module enhances research by introducing three new features. 
Intuitive data management, simplified sample workflows, and unlimited navigation
ZEISS ZEN Connect ensures that users focus on the data rather than on the acquisition method. They initiate a workflow with any microscope, analyze a full sample on a large scale, and identify the specific areas of interest with the automatic overlay and relocation algorithm. Moreover, it uniquely enables its users to analyze data in a wider context connecting large field of view images with the highest resolution details. They benefit from project based data storage and effortless image labeling which enables better control over the data structure in complex experiment set-ups
ZEISS ZEN Connect is available for the company's full range of optical, confocal, X-ray, electron, and ion microscopes. It is especially recommended for correlation of ZEISS LSM 800 and ZEISS GeminiSEM; but also compatible with most light and electron microscopes from ZEISS.
ZEISS ZEN Connect is offered on a 60-day free trial basis, which can be obtained online from the ZEISS Microscopy Webpage. Existing customers may use it in conjunction with their ZEISS ZEN Blue or ZEISS SmartSEM 6.2 or higher software, while new users may freely download ZEISS ZEN Lite in order to test the capabilities of ZEISS ZEN Connect. Furthermore, the third party image feature can be acquired separately.
About ZEISS
ZEISS is an internationally leading technology enterprise operating in the fields of optics and optoelectronics. The ZEISS Group develops, produces and distributes measuring technology, microscopes, medical technology, eyeglass lenses, camera and cinema lenses, binoculars and semiconductor manufacturing equipment. With its solutions, the company constantly advances the world of optics and helps shape technological progress. ZEISS is divided up into the four segments Research & Quality Technology, Medical Technology, Vision Care/Consumer Products and Semiconductor Manufacturing Technology. The ZEISS Group is represented in more than 40 countries and has over 50 sales and service locations, more than 30 manufacturing sites and about 25 research and development centers around the globe.
In fiscal year 2015/16 the company generated revenue approximating €4.9 billion with over 25,000 employees. Founded in 1846 in Jena, the company is headquartered in Oberkochen, Germany. Carl Zeiss AG is the strategic management holding company that manages the ZEISS Group. The company is wholly owned by the Carl Zeiss Stiftung (Carl Zeiss Foundation).
Further information at www.zeiss.com
Microscopy
The Microscopy business group is the world's only one-stop manufacturer of light, electron, X-ray and ion microscope systems. The portfolio compromises solutions and services for the life sciences and materials research as well as for industry, education and clinical practice. The business group is headquartered in Jena. Additional production and development sites are located in Oberkochen, Göttingen and Munich, as well as in Cambridge in the UK, and in Peabody, MA and Pleasanton, CA in the USA. The business group is allocated to the Research & Quality Technology segment. Around 6,100 employees work for the segment, generating revenue totaling €1.5 billion in fiscal year 2015/16.
Contact This Company Download Spec Sheet
More from Vision Systems