New Yale YK and Shaw-Box SK Electric Wire Rope Hoists Incorporate Advanced Safety Features
Press Release Summary: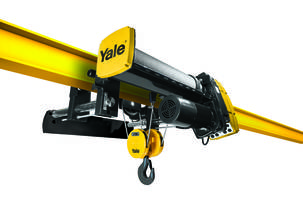 Yale YK and Shaw-Box SK German-engineered electric wire rope hoists integrate advanced safety features such as block-operated and  adjustable geared limit switches, overload protection, and motor temperature control. The product lines include lifting capabilities from one to 10 tons, three frame sizes, and a customizable modular system to meet specific requirements. Other features include low headroom trolley and single-girder overhead travelling cranes for applications with limited space.
---
Original Press Release:
New Yale YK and Shaw-Box SK Hoists Offer Industry-Leading Technology and Safety
Precision engineered by Columbus McKinnon for optimal performance and ease of maintenance
GETZVILLE, N.Y., May 1, 2018 – Columbus McKinnon Corporation (NASDAQ: CMCO), a leading designer, manufacturer and marketer of motion control products, technologies and services for material handling, introduces its new Yale® YK™ and Shaw-Box® SK™ electric wire rope hoists. Manufactured to the highest industry standards, the Yale YK and Shaw-Box SK monorail hoists are German engineered and offer reliable operation, high efficiency and long life, and are competitively priced for the U.S. market.
The Yale YK and Shaw-Box SK are designed with safety in mind, incorporating standard safety features such as a block-operated limit switch, adjustable geared limit switch, motor temperature control and overload protection. 
 "The new YK and SK hoists feature a modular system that allows you to easily configure and design a hoist solution to your exact application needs," said Carlos Bassa, global product manager, wire rope hoists. "With a wide range of lifting capacities from one to 10 tons and three frame sizes, these units can be used everywhere from equipment production lines to warehousing facilities."
The Yale YK and Shaw-Box SK are ideal for applications with space limitations, featuring a low headroom trolley that can be used on monorail runways and single-girder overhead travelling cranes. Assembled in Wadesboro, North Carolina, with German-made components, the YK and SK have short lead times to meet tight deadlines.
Columbus McKinnon's new YK and SK hoists are available through its Crane Solutions Group, which is dedicated to serving the company's partners in the crane industry. With the acquisition of STAHL CraneSystems in 2017, Columbus McKinnon is able to leverage the combined technologies of its Yale, Shaw-Box and STAHL product lines to offer the most comprehensive wire rope hoist and crane component portfolio available, while simplifying its product offering for ease of selection and purchase.
To learn more about the Yale YK, Shaw-Box SK or any of the company's crane solutions products, call Columbus McKinnon Channel Services at 800-888-0985 or visit www.cmworks.com.
About Columbus McKinnon
Columbus McKinnon is a leading worldwide designer, manufacturer and marketer of motion control products, technologies, systems and services that efficiently and ergonomically move, lift, position and secure materials. Key products include hoists, cranes, actuators, rigging tools, light rail work stations and digital power and motion control systems. The Company is focused on commercial and industrial applications that require the safety and quality provided by its superior design and engineering know-how.
More from Controls & Controllers