New XTLtouch Wireless Control Panel with LTE and Wi-Fi Communication
Press Release Summary: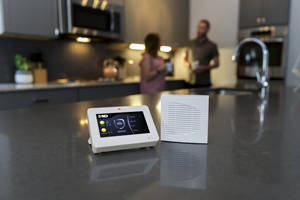 Provides video integration with multiple options via the virtual keypad app or browser
Combines the intuitive 5-inch graphic touchscreen keypad with the popular XTLplus™
Built-in Z-wave support for up to 140 Z-wave plus devices
---
Original Press Release:
DMP's XTLtouch™ - Now Available for AT&T Customers
Springfield, MO — June 4, 2020 -- You may know it as DMP's enhanced all-in-one system — and until now, the XTLtouch has only been available to Verizon customers. DMP is pleased to announce that the XTLtouch Wireless Control Panel with AT&T LTE is here!
"We're very excited about this," says DMP's Vice President of Sales Mark NeSmith. "No other all-in-one offers the same powerful and flexible solution. For areas that require AT&T service, this allows our dealers to much more aggressively compete in the residential and small commercial markets."
The XTLtouch combines DMP's elegant and intuitive 5-inch graphic touchscreen keypad with the popular XTLplus™. You can place it in the best location with the option of wireless sirens and wireless keypads exactly where your customers want them. All the keypads have the exact same interface so users can learn them quickly and move from one to another easily.
Plus, it's competitively priced. In fact, all in a single small footprint, the XTLtouch comes standard with:
99 zones of DMP's 900 MHz Two-Way™ Wireless
LTE AND Wi-Fi communication
Six Areas or Home/Sleep/Away Arming or All/Perimeter
Remote control via DMP's Virtual Keypad™ app or VirtualKeypad.com
Built-in Z-Wave support for up to 140 Z-Wave Plus devices
Custom Actions - up to 20 different user programmable scripts that can be programmed into the XTLtouch
Video integration with multiple options via the Virtual Keypad app or browser
Compared to other all-in-one systems, the XTLtouch offers much more, including:
Entry Check-In Protection
All XTLtouch installation options offer Entry Check-In Protection included at no extra price. In the event of an intrusion, this is a proactive safeguard against a burglar's fast tactic to disable the security system before it can send a signal. "Entry Check-In Protection is based on the same reliable check-in technology that we've used for years for our high-security customers," NeSmith explains.
External 110dB Wireless Sirens
The XTLtouch's external 110dB wireless siren can be placed anywhere. When it comes to real security, this can make a resounding difference. "The first thing an intruder would typically do is try to disable the soundmaker," NeSmith says. "But with the XTLtouch, since the siren won't be coming from the main panel, it's not alerting the intruder to where the main system is; therefore, it's more secure."
Fast and Flexible Installations
And don't forget, the XTLtouch offers table-top and wall-mount installation options to fit your customer's preferences. And, depending on where you find the best cell reception or wireless coverage, you'll be able to place the panel wherever it works best with the option of installing up to eight wireless sirens, as well as seven additional keypads. Those keypads all have identical user interface as the main unit and can be placed exactly where your customer wants them.
About DMP:
DMP is a privately held, independent manufacturer of innovative intrusion, fire, access control, network and cellular communication products designed, engineered, and manufactured in Springfield, Mo., using U.S. and global components. DMP is the recognized leader in alarm communication over data networks, with products that are available through professional electronic security companies. For more information, contact Mark Hillenburg at MHillenburg@DMP.com or visit DMP.com.
Contact:
Mark Hillenburg 
800-641-4282
Related