New XL SCAN Scanning Solution Comes with an Integrated excelliSHIFT Z Axis
Press Release Summary: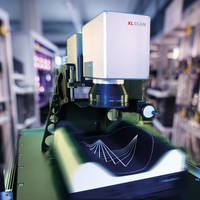 Combines 2D scan head with XY positioning stage
Ultra-dynamic z-shifter enables precise surface processing of 3D-shaped workpieces
Applications include processing of windshields and surface structuring of mould tools
---
Original Press Release:
Limitless Scanning with Ups and Downs
XL SCAN integrates ultra-dynamic z axis into scan solution
Puchheim, Germany – June 21, 2019 – At the LASER World of PHOTONICS 2019 tradeshow in Munich, Germany, leading galvo-based scan solution provider SCANLAB GmbH is presenting its XL SCAN, for the first time with an additional axis. Jointly developed with ACS Motion Control, this innovative scan system processes workpieces of practically unlimited size by combining a 2D scan head with an XY positioning stage. What's new is the added ultra-dynamic z-shifter that enables highly precise surface processing of 3D-shaped workpieces in nearly any size.
Numerous laser processing applications are constrained by the scan system's image field size. Large workpieces thus typically require stepwise processing of individual surface sections. But this approach produces relatively long process times and bears the risk of stitching errors. To eliminate those shortcomings, SCANLAB and ACS Motion Control designed the XL SCAN. This scan solution synchronizes one or multiple excelliSCAN scan heads and one or two mechanical XY stages, each with two servo axes. That turns the system into a highly dynamic scan solution for micromachining large workpieces at maximum accuracy.
An XL SCAN will be shown at the Munich tradeshow for the first time with an integrated excelliSHIFT z axis. Because this galvo-based z axis works completely without transmissive elements, it keeps up with the scan head's fast dynamic performance and flexibly guides the laser spot. This will allow users to precisely process even 3D-shaped large-area workpieces. The user simply inputs the desired three-dimensional contour and can even let processing be simulated beforehand. Possible example applications include processing of windshields and surface structuring of mould tools. Initial test systems with integrated z axes will be deliverable starting in 2020.
Current Tradeshow Calendar:
LASER World of Photonics 2019 from June 24 – 27, 2019, in Munich, Germany – 
Hall A2, Booth 225.
About SCANLAB:
With over 35,000 systems produced annually, SCANLAB GmbH is the world-leading and independent OEM manufacturer of scan solutions for deflecting and positioning laser beams in three dimensions. Its exceptionally fast and precise high-performance galvanometer scanners, scan heads and scan systems find application in industrial materials processing and the electronics, food and beverage industries, as well as biotech and medical technology.
For over 25 years, SCANLAB has secured its international technology leadership through pioneering developments in electronics, mechanics, optics and software, as well as the highest quality standards.
About ACS Motion Control:
ACS Motion Control is a global company providing EtherCAT network based high performance machine control systems for motion centric applications. Since 1985, ACS Motion Control has provided state of the art control solutions to world leading manufacturers.
SCANLAB GmbH
Eva Jubitz
Marketing & Communications
Siemensstr 2a • 82178 Puchheim • Germany
Tel. +49 (89) 800 746-0 • Fax +49 (89) 800 746-199
mailto:E.Jubitz@scanlab.de • www.scanlab.de
More from Packaging Products & Equipment