New Xelum R&D System Simplifies Lab to Continuous Production Process
Press Release Summary: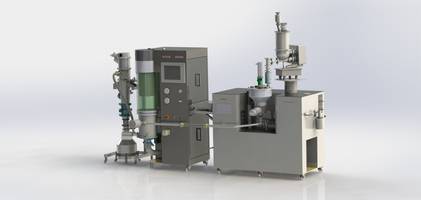 Bosch's Xelum R&D Production System is designed for continuous production of oral solid dosage forms. Unit features integrated dry blender featuring up to four loss-in-weight feeders. The system reduces cycle times and production costs. Xelum system is based on fluid bed processors which eliminated the transfer of wet granules during granulation and drying process. Unit delivers precise dosing of small amount of API.
---
Original Press Release:
Bosch Presents New Xelum R&D
The shortest way from the lab to continuous production
From the development of new products through to production
Precise dosing of smallest amounts of API
Integrated dry blender with up to four loss-in-weight feeders
Direct 1:1 transfer from Xelum R&D to Xelum production equipment
Schopfheim / Frankfurt, Germany – At Achema 2018, Bosch Packaging Technology introduces its latest R&D device for the continuous production of oral solid dosage (OSD) forms. The platform ensures a short time to market and optimum dosing of APIs. "The new laboratory device is based on our Xelum production platform that we presented last year," says Fritz-Martin Scholz, product manager at the Bosch subsidiary Hüttlin. "The separated process steps of batch production take place one after the other and without interruption. This leads to shorter cycle times, lower production costs and high flexibility." With the Xelum R&D, Bosch offers a platform that offers an ideal start to continuous manufacturing.
Precise and reliable dosing
As opposed to the common complex mass flow rate, excipients and active ingredients are dosed as a discrete mass in the Xelum R&D. This makes it possible to dose even smallest amounts of APIs of less than one percent. The system doses, mixes and granulates individual packages, so-called X-keys, which continuously run through the process chain and are removed successively from the machine as packages into bins. "This way we reduce not only process complexity, but also the system's failure susceptibility, while increasing both accuracy and quality of the end product. Moreover, the product is traceable at all times," says Scholz. Depending on requirements, up to four loss-in-weight feeders can be used.
Since the Xelum R&D uses the same components for dosing, mixing and granulating as the Xelum production platform from Bosch, process parameters are identical and can be directly transferred 1:1. "Scale-up becomes obsolete, which reduces development time and API usage, since elaborate tests are no longer necessary," Scholz explains. Material flow from dosing to emptying takes place in a closed process (bin-to-bin) to ensure the highest safety.
The benefits of the fluid bed
Current continuous production systems for wet granulation mostly use twin screw granulators. The Xelum system relies on fluid bed processors – based on a proven technology developed by the Bosch subsidiary Hüttlin. In the fluid bed, granulation and drying take place in the same process chamber. "This eliminates the need to transfer wet granules, which in turn has a positive effect on the system's reliability," Scholz emphasizes. Pharmaceutical manufacturers obtain granulates with the desired characteristics – including unimodal particle size distribution, as well as excellent flow and tableting properties combined with high production yields.
The controls of the Xelum R&D correspond to a modern production system. All relevant process parameters are continuously recorded. Both the production and the product transfer, as well as the cleaning process are recipe-controlled and ensure reproducible results. The user-friendly handling of the system is complemented by a DoE (Design of Experiment) software support.
Bosch Packaging Technology at Achema: hall 3.1, booth C71
Contact:                                                     Contact person for press inquiries:
Fritz-Martin Scholz,                                   Nicole Koenig,
Phone: +49 7622 6884-131                      Phone: +49 7951 402-648
Based in Waiblingen near Stuttgart, Germany, and employing 6,300 associates, the Bosch Packaging Technology division is one of the leading suppliers of process and packaging technology. At over 30 locations in more than 15 countries worldwide, a highly-qualified workforce develops and produces complete solutions for the pharmaceuticals, food, and confectionery industries. These solutions are complemented by a comprehensive after-sales service portfolio. A global service and sales network provides customers with local points of contact.
More information is available online at www.boschpackaging.com
The Bosch Group is a leading global supplier of technology and services. It employs roughly 402,000 associates worldwide (as of December 31, 2017). The company generated sales of 78.1 billion euros in 2017. Its operations are divided into four business sectors: Mobility Solutions, Industrial Technology, Consumer Goods, and Energy and Building Technology. As a leading IoT company, Bosch offers innovative solutions for smart homes, smart cities, connected mobility, and connected manufacturing. It uses its expertise in sensor technology, software, and services, as well as its own IoT cloud, to offer its customers connected, crossdomain solutions from a single source. The Bosch Group's strategic objective is to deliver Page 3 of 3 innovations for a connected life. Bosch improves quality of life worldwide with products and services that are innovative and spark enthusiasm. In short, Bosch creates technology that is "Invented for life." The Bosch Group comprises Robert Bosch GmbH and its roughly 440 subsidiary and regional companies in 60 countries. Including sales and service partners, Bosch's global manufacturing, engineering, and sales network covers nearly every country in the world. The basis for the company's future growth is its innovative strength. At 125 locations across the globe, Bosch employs some 64,500 associates in research and development.
Additional information is available online at www.bosch.com, iot.bosch.com, www.boschpress.com, twitter.com/BoschPresse.