New xCase for iPad Pro Meets MIL-STD-810G Ruggedness Testing
Press Release Summary: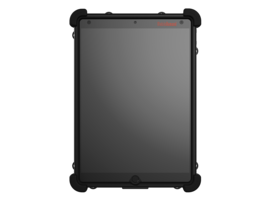 MobileDemand's xCase for iPad Pro® 10.5 in. model come with rubber corner bumpers, port covers and secure grasp. Unit's patented snap mount plate system helps in attaching iPad to cars, trucks, and forklifts. Unit withstands up to 26 drops from four feet and features briefcase handle and a backhand strap for effortless carrying and holding the tablet. The case allows mounting of tablet to walls, tripods, counters and desks.
---
Original Press Release:
Ultimate Rugged xCase for iPad Pro® 10.5" Model with Industry-Leading Functionality Introduced by MobileDemand
Military-grade rugged case provides industry-leading tablet protection, is easy to carry and hold, mountable, and add-on ready, providing the right tool for the job
 
HIAWATHA, IA – May 9, 2018 – MobileDemand continues to lead the way in the rugged tablet industry, constantly innovating and developing new products for mobile workforce productivity. The company is introducing its military-grade rugged xCase for the iPad Pro 10.5" model, its first rugged case for iPad users following tremendous success with its rugged case for the Microsoft Surface Pro tablet.
 
No other case has the proven ruggedness, is easy to carry and hold, mountable, or ready for add-on functionality like the new MobileDemand rugged xCase for iPad. Business and education users, as well as super-user consumers need extended functionality over mere drop protection. MobileDemand has found users need proven ruggedness, but also the need to securely carry the iPad for extended periods of time. Users require the ability to mount the iPad in an array of locations including a vehicle, counter, wall, tripod, or other surfaces. Increasingly, retail environments expect to take payments in a mobile setting, thus needing PCI-compliant point-of-sale magnetic strip readers and PIN pads attached to their iPads. Only the MobileDemand rugged case for iPad has the distinction to cover basic and extendable needs.
 
Proven Rugged – Distinctive rubber corner bumpers provide extreme-level shock absorption. The xCase meets MIL-STD-810G ruggedness testing, which means it must survive 26 drops from four feet. Many companies use up to five devices to pass those tests; MobileDemand uses only one device and provides video recording and test reports as a resource for transparency. A port cover protects the lightning connector, preventing water and dust from entering the device. The design, quality, and standards of the case are proven to protect your assets in tough industrial jobs, yet it is lightweight for mobile applications.
 
Easy to Carry and Hold – The xCase for iPad Pro offers a convenient briefcase handle for effortless carrying, and a backhand strap to comfortably hold the tablet in the palm of the hand. A secure grasp on the device is key for ease-of-use and to prevent users from dropping the device, keeping IT support and replacement costs down.
 
Mountable – The rugged xCase for iPad Pro is mountable thanks to the patented snap mount plate system, allowing for secure mounting, and quick insertion and removal. The simple, small, easy-to-use mount can attach the iPad to vehicles, such as cars, trucks, and even forklifts. The mount can be affixed to walls, tripods, counters, desks – nearly anywhere one can imagine – and is compatible with RAM Mounts.
 
Add-On Ready – The xCase extends the functionality of the iPad Pro by providing numerous screw inserts to attach any ancillary add-on device. In retail environments that take payments in a mobile setting, PCI-compliant point-of-sale magnetic strip readers and PIN pads can be attached to the rugged case. Optional brackets are offered to be compatible with Ingenico, MagTek, PayPal, and other payment module systems. Other extendable add-ons include 3D cameras such as the Intel© RealSense™ Depth Camera D415, and thermal cameras. MobileDemand also offers a screen protector for extra screen protection.
 
"MobileDemand's first rugged case for the iPad demonstrates our extensive ability to deliver highly functional productivity tools for our customers. We help them get more done, faster and at a lower cost, while enhancing their capability to sell or deliver more to their customers," said Matt Miller, President. "The iPad case strategy adds to our extensive portfolio of rugged tablets offered, to better help every customer find the right tool for the job."
 
The xCase for iPad Pro 10.5" model will be available by the middle to end of June. VisitRuggedTabletPC.com for information on MobileDemand's portfolio of rugged solutions, or specifically the page for the rugged case for iPad Pro atwww.RuggedTabletPC.com/RuggediPadCase Contact a MobileDemand Mobility Expert at 319.363.4121 or Sales@MobileDemand.com for more information.
 
About MobileDemand
MobileDemand provides a portfolio of rugged tablets, covers, mounts, accessories, and apps for mobile workers in many industries including agriculture; construction; energy – oil, gas, and mining; field sales and service; food and beverage distribution; military and public sector; manufacturing and warehousing; transportation and logistics; and retail. MobileDemand delivers the power, reliable performance, and long-term savings companies need to achieve greater efficiency and productivity in the field. To learn more about MobileDemand, visit RuggedTabletPC.com.
 
MobileDemand
1501 Boyson Square Drive, Suite 101
Hiawatha, IA 52233
2319.363.4121
Stacey Jones, Director of Marketing
319.721.0709
SJones@MobileDemand.com
More from Computer Hardware & Peripherals