New X-Rite Measurement Devices Measure Cylinder Shapes for Packaging, Plastics and Industrial Applications
Press Release Summary: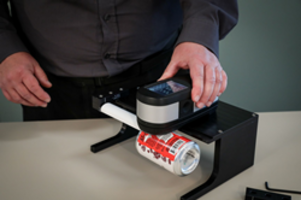 Can measure textured, reflective, translucent, and transparent samples using ISO-compliant Munsell backing material
Include a sample-positioning arm to hold the sample at the correct height and angle
Allows the operator to move the sample or rotate it to measure different locations
---
Original Press Release:
X-Rite Helps Package Printers and Plastic Manufacturers Control Color on Cylindrical-Shaped Items
New X-Rite Cup and Cylinder Fixture for the eXact and Ci6x Families of portable spectrophotometers makes it easy for non-destructive color measurement on curved surfaces.
GRAND RAPIDS, MICH. (PRWEB) JULY 09, 2019 -- X-Rite Incorporated and Pantone LLC, global leaders in color science and technology, today announced a new fixture that helps manufacturers measure and control color on small plastic parts, cups, bottles, tubes, and other curved surfaces without damaging the sample. The Cup and Cylinder Fixture works with the eXact and Ci6x Families of portable handheld devices to measure cylinder shapes and labels for a range of packaging, plastics and industrial applications. The new fixture solves specific quality control requirements from customers who need to measure color on final products using a non-destructive testing method. This helps reduce measurement time, streamline quality control processes, and supports sustainable manufacturing practices by reducing waste.
"Measuring any curved surface can introduce errors, making it hard to control color on cups, cans, sleeves, and bottles," said Michael Beering, Product Manager, X-Rite and Pantone. "As a result, many manufacturers resort to destructive testing by cutting a piece from the finished product to lay it flat for measuring. This adds time, waste, and potential safety risks into the quality control process. Working directly with our customers, we created the Cup and Cylinder Fixture to hold a range of cylinder-shaped objects for easy color measurement without destroying the sample. Initial customer feedback has been extremely positive, with one customer saving 12 employee hours per day due to significant reductions in measuring time by eliminating the need to cut samples."
X-Rite's Cup and Cylinder Fixture includes a sample-positioning arm to hold the sample at the correct height and angle, while accounting for the thickness of the sample wall. It also includes a bench to align the X-Rite instrument to the measurement plane. The fixture can be customized to support samples of various thicknesses and ensures that the eXact or Ci6x sits on the stand with the aperture aligned over the sample. The sample-positioning arm allows the operator to move the sample or rotate it to measure different locations.
"An operator in a manufacturing facility can use the Cup and Cylinder Fixture with an eXact to easily measure the color on a wide array of opaque materials, including plastic, foam, film, and paper," continued Beering. "When the fixture is used with the Ci6x Family, a manufacturer can measure textured, reflective, translucent, and transparent samples using ISO-compliant Munsell backing material. Both uses provide actionable data to help operators control color throughout the manufacturing run, between presses, and even across sites, without the added work and expense of cutting samples."
For more information on X-Rite's Cup and Cylinder Fixture visit https://www.xrite.com/categories/parts-accessories/cup-and-cylinder-fixture.
About X-Rite 
Founded in 1958, X-Rite Incorporated is a global leader in the science and technology of color and appearance. With Pantone, X-Rite employs more than 800 people in 11 countries. The company's corporate headquarters are located in Grand Rapids, Mich., with regional headquarters in Europe and Asia and service centers across Europe, the Middle East, Asia, and the Americas. X-Rite offers a full range of solutions used by manufacturers, retailers, printers, photographers and graphic design houses to achieve precise management and communication of color and appearance throughout their processes. X-Rite products and services are recognized standards in the printing, packaging, photography, graphic design, video, automotive, paints, plastics, textiles and medical industries. For further information, please visit http://www.xrite.com. For the latest news, information, connect with X-Rite on LinkedIn, Twitter, and Facebook.
About Pantone 
Pantone provides the universal language of color that enables color-critical decisions through every stage of the workflow for brands and manufacturers. More than 10 million designers and producers around the world rely on Pantone products and services to help define, communicate and control color from inspiration to realization – leveraging advanced X-Rite technology to achieve color consistency across various materials and finishes for graphics, fashion and product design. Pantone Standards feature digital and physical color specification and workflow tools. The Pantone Color Institute™ provides customized color standards, brand identity and product color consulting as well as trend forecasting inclusive of Pantone Color of the Year, Fashion Runway Color Trend Reports, color psychology and more. Pantone B2B Licensing incorporates the Pantone Color System into different products and services, enabling licensees to communicate and reproduce certified Pantone values and improve efficiencies for their users. Pantone Lifestyle brings color and design together across apparel, home, and accessories. Learn more at http://www.pantone.com and connect with Pantone on Instagram, Facebook, Pinterest, and LinkedIn.
Contact Information
Alicia Libucha X-Rite
http://www.xrite.com/
8572050919
More from Communication Systems & Equipment