New X-Ray Inspection Systems Offer Ultra-High Resolution and Magnification
Press Release Summary: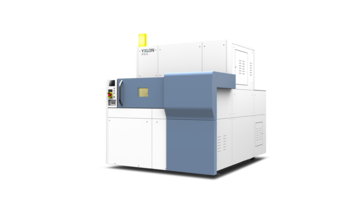 Provides automated analysis of TSVs, C4 bumps, 3D packages and MEMS at wafer, strip or component level with maximum throughput
Features computed laminography for ultra-high volume resolution
Contains an air-suspended high precision manipulator and anti-vibration mechanics
---
Original Press Release:
Expansion of YXLON Product Portfolio for the Semicon Industry
Hamburg, March 20th, 2019: YXLON International, a division of the Swiss Comet Group, is launching a brand-new range of X-ray inspection systems dedicated to the Semicon industry. These systems offer advanced automated 2D and 3D inspection of bumps and filled vias to locate, identify and measure failures, including non-wetted bumps, voiding and misalignments to the highest standard. In terms of resolution these systems are among the best on the worldwide market. The range is being introduced during the Semicon China exhibition in Shanghai, March 20-22, 2019, booth #2439 – with a live presentation of the YXLON FF70 CL.
The FF70 CL and FF65 CL series are fully automated analysis systems offering ultra-high resolution and magnification for the smallest semiconductor defect detection. The brand-new range of inspection systems provides automated analysis of TSVs, C4 bumps, 3D packages and MEMS at wafer, strip or component level with maximum throughput. Lastly the FF65 IL with its integrated loader is designed to meet the needs of volume manufacturing whilst maintaining market leading features and benefits. They were developed under collaboration with Nagoya Electric Works.
"Our customers in the Semicon industry require analyzing continuously smaller features at higher speed. Classical electrical testing and optical inspection are coming to their limits, especially in complex 3D packaging", states Eike Frühbrodt, Vice President YXLON Product and Project Management. "The FF70 CL with its computed laminography for ultra-high volume resolution can handle this challenge easily. An air-suspended high precision manipulator, anti-vibration mechanics and 7 tons of machine weight make it an ideal choice for defect inspection at micron level. And when speed is more an issue than ultra-high resolution, the FF65 CL and FF65 IL will deliver. All three systems are an excellent complimentary range to our existing product portfolio for the Electronics market with Cougar and Cheetah EVO, as well as YXLON FF20 CT and FF35 CT."
About YXLON
YXLON International, a company of the Swiss Comet Group since 2007, designs and produces radioscopic and CT inspection systems for the widest variety of applications and fields. Whether situated in the aviation & aerospace, automotive or electronics industry, our customers are among the largest producers, major enterprises that place their confidence in our quality worldwide.
The name YXLON stands for assurance and quality for all types of cast parts, tires, electronic components, turbine blades, welded joints and a lot more. Our product portfolio includes X-ray systems for installation in radiological inspection envelopes, universal X-ray inspection systems on the basis of fully shielded devices, as well as solutions specific to a customer. Whether in manual, semi or fully automated operation, our inspection systems are ideal for deployment in research & development and can be integrated into any production process.
CT systems have been an integral part of our product portfolio since as far back as 2003. Computed tomography provides a three-dimensional insight into inspection items, thus enabling the analysis of inner structures, dimensional measurement tasks in metrology applications or actual-to-nominal comparisons to CAD data, to name only a few examples. Besides delivering a more precise inspection evaluation when compared with radiography, computed tomography also provides valuable information about the production process. Above and beyond such advantages, our microfocus systems permit highly detailed looks into the most intricate structures and tiniest components.
With our headquarters in Hamburg, sales and service locations in Yokohama, Hudson (Ohio), San Jose (California), Beijing, Shanghai, Hattingen and Heilbronn, as well as a network of representatives in over 50 countries, as YXLON we're local for our customers all over the world.
About Comet
The Comet Group is a globally leading, innovative Swiss technology company focused on the x-ray, radio frequency and ebeam businesses. With premium high-tech components and systems, we enable customers in numerous industries to both enhance the quality of their products and make their manufacturing more efficient and eco-friendly. Our innovative solutions under the Comet, Yxlon and ebeam brands are in demand for applications such as non-destructive testing and security inspection, the coating and treatment of surfaces, and non-contact sterilization.
Based in Flamatt, Switzerland, the Comet Group has a presence in all world markets. We employ more than 1,400 people worldwide, including over 500 in Switzerland. Besides production facilities in China, Denmark, Germany, Switzerland and the USA, we maintain various subsidiaries in the USA, China, Japan and Korea. Comet (COTN) is listed on the SIX Swiss Exchange. For more information, visit https://www.comet-group.com/home.
More from Machinery & Machining Tools