Power Transmission and Timing Belts
New Wrapped Xtreme V-Belt from Gates Uses Ethylene Elastomer Compounds
Press Release Summary: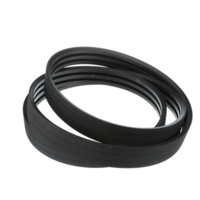 Suitable for OEMs in agriculture, forestry and heavy industrial markets
Operating temperature rang from -40°C to 130°C
Features improved flex for higher-speed drives
---
Original Press Release:
Gates Advances Industrial Application of Ethylene Elastomer Technology with Development of High-Performance Banded V-Belt
Gates' First-to-Market Ethylene Elastomer banded V-Belt, the Xtreme V-Force Mega, delivers superior power transmission performance
DENVER, April 28, 2020 /PRNewswire/ -- Gates (NYSE: GTES), a leading global provider of application-specific fluid power and power transmission solutions, introduces the world's first wrapped V-Belt technology using Ethylene Elastomer (EE) compounds for original equipment manufacturers (OEMs) in the agriculture, forestry and heavy industrial markets. The launch of the Xtreme V-Force™ Mega banded V-belt platform leverages Gates' materials science and manufacturing process expertise to produce unique EE-based solutions that provide customers with increased performance and uptime, and extended operating temperatures.
"At Gates, transforming our industrial belt platforms using Ethylene Elastomer compounds is a priority," said Tom Pitstick, CMO and senior vice president of product line management for Gates. "With the development of our PowerGrip® GT®4 synchronous belts, G-Force™ RedLine™ CVT power sports belts and the new Xtreme V-Force EE banded belt family, we are leading the way in advanced materials development in our industry."
The new Gates Xtreme V-Force Mega belt offers a number of benefits vs. currently available products on the market, including:
An extended operating temperature range from -40°C to 130°C;
A 30% increase in load capacity and durability, which enables:

Performance in even more demanding applications;
The ability to design higher-load drives without increasing the design footprint on today's high-powered equipment

Improved flex for higher-speed drives;
The elimination of chlorinated polymers, which improves the overall environmental impact of these products.
Ethylene Elastomers, which involve complex processing technology, help enable a number of the performance advantages of this new belt platform. Gates' continued focus on the intersection of materials science and process engineering is what has enabled the company to bring these and other Ethylene-based products to market. 
The Gates Xtreme V-Force Mega belt is currently available for sampling and full-production applications in a variety of profiles and lengths. Please contact your Gates sales person or visit www.gates.com/xtreme to learn more.
About Gates
Gates is a global manufacturer of innovative, highly engineered power transmission and fluid power solutions. Gates offers a broad portfolio of products to diverse replacement channel customers and to original equipment ("first-fit") manufacturers as specified components. Gates participates in many sectors of the industrial and consumer markets. Gates products play essential roles in a diverse range of applications across a wide variety of end markets ranging from harsh and hazardous industries such as agriculture, construction, manufacturing and energy, to everyday consumer applications such as printers, power washers, automatic doors and vacuum cleaners, and virtually every form of transportation. Gates products are sold in 128 countries across four commercial regions: the Americas; Europe, Middle East and Africa; Greater China; and East Asia and India. More about Gates can be found at www.gates.com.
Gates
CONTACT: Ani Vattano, Director of Communications, Ani.Vattano@gates.com, (303) 744-4821
Web Site: http://www.gates.com
More from Cleaning Products & Equipment