New WORX Tool Gifts Brighten Holidays for Do-it-yourselfers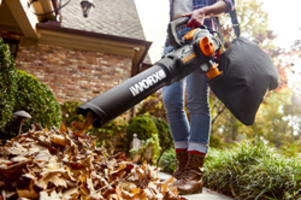 Charlotte, N.C. (PRWeb) November 19, 2019 -- WORX® engineers really might not be elves, but they sure have provided Santa with some exciting new tool gifts to leave under the tree this year. Imagine the spontaneous smiles and wows that will erupt when a do-it-yourselfer unwraps an innovative WORX 3-in-1 TRIVAC® Blower/Mulcher/Vac, WORX 20V Hydroshot™ with 4.0 Ah Battery or WORX 20V Axis Reciprocating and Jig Saw.
For example, the redesigned WORX TRIVAC has an articulating motor that allows one-touch, tool-free conversion from blower to mulcher/vac. This means blowing, mulching, and vacuuming functions all use the same wide-mouth, circular tube. To switch from blower to mulcher/vac, the user simply turns a switch and connects a 1.4 bushel collection bag.
TRIVAC has two-speeds with a maximum of 600 cubic feet per minute (cfm). At low speed, the blower's sweeping action is great for clearing sidewalks, driveways, entryways, patios and decks, while high speed moves large volumes of leaves.
The 12-amp blower/mulcher/vac has a single-stage metal impeller to shred leaves and twigs to a 16:1 ratio. In other words, a single bag of leaves and twigs collected and shredded by TRIVAC is equivalent to16 bags of unmulched leaves filled by hand.
The combination vac is well-balanced and easy to use. It weighs only 8.8 lbs. in blower mode and 9.5 lbs. in vac mode due to the weight of the collection bag.
WORX TRIVAC 3-in-1 Blower/Mulcher/Vac (WG512, $99.99) is available at worx.com and Amazon. It is covered by the WORX three-year limited warranty.
The new WORX 20V, 4.0 Ah Power Share Hydroshot Portable Power Cleaner combines a hi-tech brushless motor with a long-lasting MAX lithium battery to make quick work of outdoor cleaning chores.
This cordless cleaning tool's brushless motor features electronic power distribution, which extends battery run time up to 50 percent over standard brushed motors. With no brushes that need replacement, the motor is maintenance-free. As part of the WORX 20V Power Share Program, Hydroshot's removable battery is compatible with more than 25 other WORX lawn and garden and DIY tools.
Weighing only 5.5 lbs., the pump-driven Hydroshot delivers up to 350 psi water pressure. That's six times more water pressure than a standard garden hose.
By rotating the multi-spray nozzle, five spray patterns can be selected: 0 degrees, 15 degrees, 25 degrees, 40 degrees and shower. Hydroshot is a water miser, using only 0.92 gallons per minutre (gpm).
Hydroshot connects to a garden hose or can draw fresh water through a 20 ft., accessory hose (included) from lakes, rivers, pools or buckets. An adjustable float on the accessory hose acts as a bobber to keep the intake from reaching sandy or muddy bottoms. The portable power cleaner also connects to most 2-liter bottles with a 1 in. opening through a bottle cap connector (provided) for simple, on-the-go cleaning where water may not be available.
WORX 20V, 4.0 Ah Power Share Hydroshot Portable Power Cleaner (WG630, $199.99) includes a 20V, 4.0 Ah, MAX lithium battery; 20V, 2 hr. charger; 20 ft. hose accessory; pressure cleaning wand; bottle cap connector; multi-spray nozzle; and quick-connect adapter. It's available at worx.com and Amazon and is covered by the WORX three-year limited warranty.
WORX Axis is two saws in one. This versatile cutting tool functions as a jigsaw, and with the push of a button, converts into a compact reciprocating saw. Its 20V MAX lithium battery can be shared with other 20V WORX DIY and lawn and garden tools.
Weighing only 4 lbs., Axis uses standard reciprocating saw and T-shank jigsaw blades available at hardware stores and home centers. A wide choice of blade types enable Axis to cut wood, PVC, plastic, fiberglass, aluminum, copper, mild steel and more.
Axis operates at 3,000 strokes-per-minute (spm). An orange switch on top of the saw allows a choice of reciprocating or orbital blade action. Orbital provides aggressive cutting, while reciprocating allows more controlled cutting efficiency. Axis also features a built-in blower to remove dust and debris, as well as an LED light for cutting visibility.
Included with the saw are a 20V MAX lithium battery, charger, one reciprocating saw blade (wood) and three jigsaw blades (wood, metal and aluminum).
WORX Axis Reciprocating and Jig Saw (WX550L, $89.99) is available at worx.com and online retailers, including Home Depot, Lowes, Walmart and Amazon. It comes with a three-year warranty.
Reach out to WORX social media links, including Facebook: https://www.facebook.com/worxus?ref=hl; Twitter: https://twitter.com/WORXTools; Pinterest: http://pinterest.com/worxtools and Instagram: @WORXTools
Contact:
Mike Mangan
MKM Communications
847-255-1903
More from Software